I've just submitted a definition of deprioritization to the Urban Dictionary.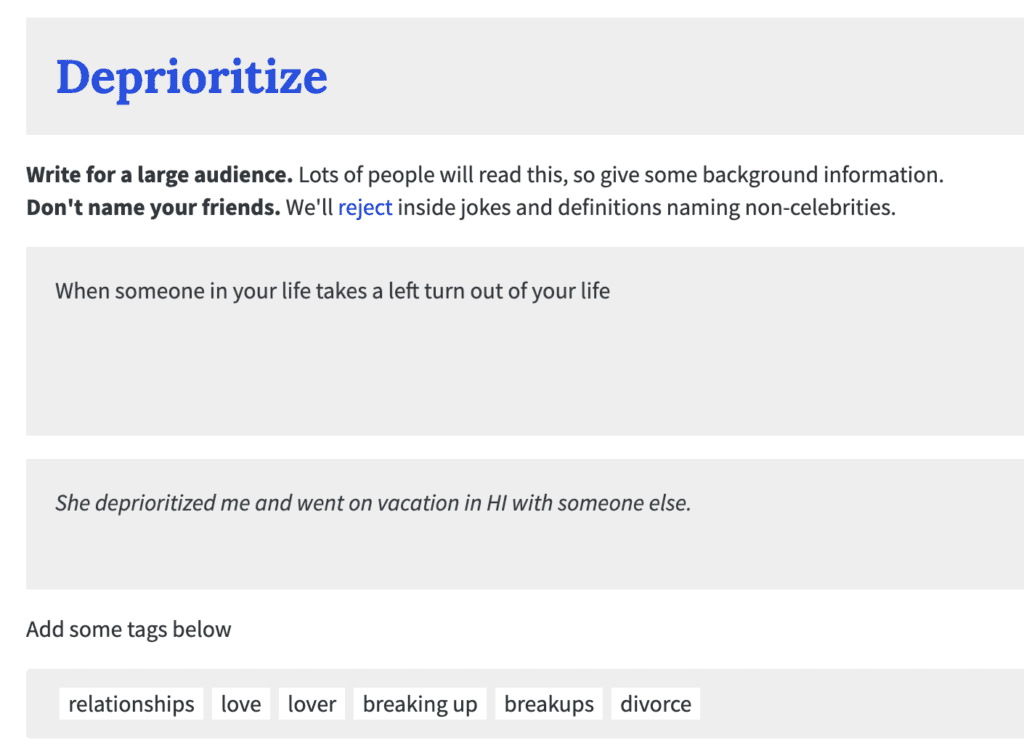 It's a common part of relationships. One partner deprioritizes their involvement. That is the beginning of the end. As it happened to me, my partner of 2+ years stated, "I'm not going to prioritize you this summer. It's going to be about me and my kids."
BOOM. End of relationship. Except I didn't accept or know it at the time. I responded something like this.
"Okay, well, we're sort of winging it anyway."
I wouldn't really understand it until I was telling one of my best friends how things were going. "She said I was not going to be her priority this summer."
"Dude. I really hate to hear that. Makes me mad. You deserve better."
He was right. We all deserve better if we are in a relationship. If we are building a WE container that is a relationship with a BIG R, then we've got to be a priority. In this case, not over her kids, but certainly over the landlord. Right? Certainly, there were needs to adjust our partnership to include me in the list of acceptable tenants or co-tenants. Right?
How It Ended Without a Bang
Even as I was describing my situation to my best friend, I could hear how absurd it was. I was trying to rebuild a partnership. I was about to be left behind while she traveled for 4 weeks with her kids. Okay, that's not too bad. I got to live in her house (rented) and upgrade my digs for a few weeks. Take care of the pets. Recall why I loved her and her kids. But, I was really being LEFT. I just wasn't ready to accept the FACT.
Why is it that so much of my FB/IG feed is filled with memes like this?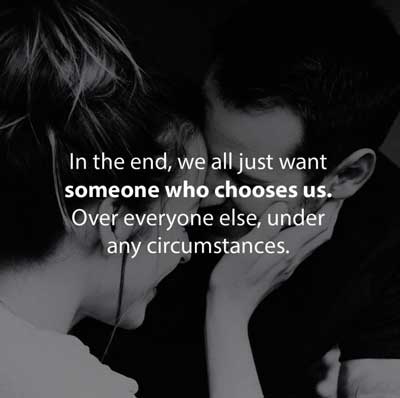 Why are we left hoping for someone to "choose us?" Why do people we love choose others? Why do they leave us when they love us, or say they love us? What is it about commitment and love that is just as frightening to men as it is to women?
I Love You, Please Don't Leave Me
In the end, my last partner left me. Sure, she was coming back. But the attempt to repair what I knew was broken, must've been obvious to her as well. Still, the pain of the final realization was not easy. I loved hard. I was in deep enough to ignore her "vacation" from me. I wanted her to choose me, AT SOME POINT IN THE FUTURE. Well, it never came.
All we want is someone who won't leave. Someone who won't give up on us, no matter what.
In my marriage, I was that partner. I was not about to give up on my marriage. We had two kids. We were not the best of friends, but we'd make it work. We'd get to the next stage. We'd find each other again. That is what I truly believed. It's why I got us into couples therapy TWICE. Me, I'm the one fighting for the relationship.
What I also did not know, at the time, was how my ex-wife's setpoint was very different than mine. She was generally unhappy. I became the reason she was unhappy, in her mind. But I know, I knew even then, that she was struggling with her own demons and she would eventually come back around to recognize what a sweet and caring husband and father I was.
It was in couples therapy (round two) that she let slip that she had been to see an attorney.
I Will Love You Forever
Love me but never leave me. That doesn't seem to be too hard an ask. However, there's a different type of person out there. I was married to one. I have known of others. And they have a different set of criteria. They have flexibility when it comes to transparency and honesty.
Let's take my ex-wife, for example. She was living with another man when she started accepting lunches with me. Over the course of two months, she went to lunch with me, hugged me, and flirted with me over texts, without EVER revealing she had a boyfriend. WHAT?
Many years later, I would understand his pain when I stumbled across an email on the family computer from a man she was taking to lunch and introducing to our local library. She wasn't that honest before we began our relationship. She was not that honest during our relationship. And she has not been honest with herself about how she negated our balanced 50/50 parenting plan at the last minute and asked for the full divorce package deal. F*ck me!
I Will Never Leave You
And those are the words that she may have said, but she was lying. My last girlfriend may have imagined that she was letting me into her life, but she was hedging her bets. She did not have any experience with someone like me, the person who stays. She did not have much experience at all, in terms of relationships after college. I hope she learned a bit about love from me. And I hope she understands a bit of the pain and suffering she caused me by not making me a priority.
Dear lover, I am the one who never leaves. Can you say the same?
Namasté,
John McElhenney – life coach austin texas
Facebook  | Instagram | Pinterest |  @wholeparent
Additional Articles:
You can find all of my books on AMAZON.