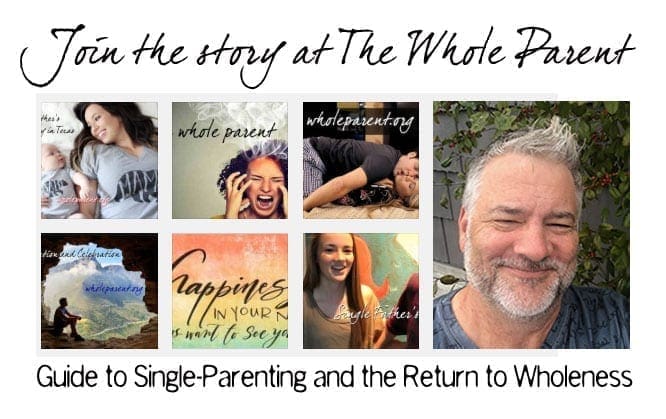 Hi. Thanks for stopping by. I'm on this journey and I'd like to bring you along.
My unwavering and immutable mission:
1. 100% positive
2. Kids first
3. Honest feelings
My big three sections are
I have been a single parent for nine years now, and I am finally getting the hang of it. There are plenty more bumps in the road, but I'm at peace with the life-changing event, and the now-I-can-see-this-is-better reflection of these past years. My goal is to uncover the WINS and work to remove the MISSES and share those stories so that others who follow this difficult journey will have some illumination, from a previous sojourner.
My hope is to write the dad-side of this story and gather contributing single-mom writers to tell the other half. My mantra will always be:
Lead with love and you will be heading in the right direction.
In the 90's I was the Creative Director and Contributing Editor of MAN! Magazine. That's where I learned to open my heart to the bursting point and work to stretch even further. Being great parents is a stretch goal for all of us. In these pages I will bring a hopeful light to bear on hard subjects, and together we (you, me, and my family) will find loving solutions to the new wrinkle of single-parenting. As if, parenting weren't hard enough.
I wish you safety, happiness, health, and an ease of life on your journey.
Check the blog The Whole Parent about being a single parent, for information and self-help 24/7.
John's books are available in all formats on Amazon.
John McElhenney – The Whole Parent
Facebook  | Instagram | Pinterest |  @wholeparent
+++
The ChatGPT bio: John McElhenney is a single father and writer, best known for his popular blog, "Whole Parent Book."  In addition to his work on the blog, McElhenney is also an active speaker and advocate for single-parent families, and has been featured in a variety of media outlets, including national television and newspapers. He writes about the daily struggles and the joys of being a single dad and the website wholeparentbook.com is a platform to share his thoughts and experiences. He also offers advice and support to other single parents who may be going through similar challenges. Through his writing and speaking engagements, McElhenney strives to promote a greater understanding and acceptance of single-parent families, and to empower single parents to raise happy, healthy, and successful children.
The official bio: John McElhenney is a single dad who lives and writes in Austin, Texas. He has published several books about parenting and divorce that can be found on Amazon. He makes his living coaching men and women in relationships and divorce. John is happiest in a relationship and playing tennis and music with his two kids.
Repurposing WHOLE PARENT Content: If you are going to excerpt part of an article for your divorce law site, please use the proper attribution and include a link back to the source article. Don't make it look like you wrote my story, that's bad form, and it doesn't do either of us any favors. I'm happy if my material helps you bolster and educate your clients about this awful and transformative divorce process, but please… Do the right thing. Give the story an author, and a link back here. If you do that we're going to get along fabulously. Thanks.