Don't kill the heat by worrying about the fire damage.
This is a continuation of my *next* relationship concept started here:
What A Single Dad Wants in the *Next* Relationship
One of the things I've learned thus far is to never assume you have it figured out. This list has come back to bite me on more than one occasion. Sure, I'm okay with being a single-parent blogger and getting into the dating/relationship space, just a bit. And I'm okay with telling you I write about stuff, and might even write about our relationship should we hit it off.
Well, let me tell you how my last three months have gone. We hit it off, sort of. We hit some parts of relating in spades, and other parts, not so much. Here are a few more points that I've learned in the course of dating another single parent for three+ months.
1. Long-Term Relationship Or Bust
Saying that I'm only interested in a long-term relationship, or marriage is not very accurate. This was the first issue that freaked this woman out. She politely said, "We've got a lot of heat, but I don't think I want the same things you want. I'm not looking to get married again. Ever. So if that's your goal, you'd best keep looking."
But…
There was no argument. However, we were both sad when our chemistry and joy was absent again from our lives. And she texted later, "do you want to hit." We were tennis buddies. And what unfolded from that "date" was an agreement that we would stay in the present and not get too far ahead of ourselves. Starting a relationship and having a Relationship are two different things. Couldn't we just enjoy our present moment together? Sure, let's try that.
I have had to recant my declaration of long-term quite a number of times. Though I know, what I want is a long-term relationship. Not a question for me. The question is, what does that look like? That's the sticky wicket.
2. If You Stay Present You Won't Get Scared
It's the future that gives my friend the freak-out posture. The best-case scenario, even in her mind, is a bit diffuse. And it is also pretty abstract when I start thinking about next year, or two years from now. I'd like to still be involved with this highly intelligent woman, who I completely dig on all burners, but who knows… Right. Who knows? Certainly, we don't know. We're just starting out. But that's our pattern and our fear that comes into our minds when we start mapping out too far in advance. And, in all fairness, it's not necessary. NOW is it. Stop with the "what if."
3. Making It Up As We Go Along
So we don't really have a word for what we "are." I don't like dating, so I'm not dating her. She doesn't like the idea of a long-term relationship so we're not doing that either. Do we need an easy handle on what we are forming between us? No. Is it more convenient if you are able to say, my boyfriend and my girlfriend? Maybe a tad better than my lover, or my life-mate. But please, we're splitting hairs. Do we like to be together? Yes. Are there things we like to do together besides fooling around in bed? Yes. Then do that. Do all of that.
4. Hold On Loosely
So she doesn't want to read my love poems. She doesn't need to read my blog. I don't have to get my yayas by getting her to tell me I'm a good writer or a swell poet. I don't need that reassurance. I'm okay with who and how I am. And she also doesn't want to hear if I'm still looking for the next relationship, though she wants to be clear that she's not it. Well, sometimes she's okay with that. (Yes, she'll be reading this at some point, and I'll get her side of the story) We're figuring that out too. What we are, what we will be. Who knows? If I think I know, I'm delusional. I have no idea. What I do know is we have an honest relationship. She's able to say when she's pissed off at something I've done or written. And I'm able to let her breakup demands roll off my shell until we're able to meet in person and talk things out. That's as far as we've gotten. And that's fine.
5. Texting Is Dangerous and Lovely
The minute there is a misunderstanding on text, stop trying to figure it out or argue it out on text. STOP. Get face-to-face and talk. You cannot read a person's attitude. You have no idea what is really going on when the text comes across saying, "I've gotten some very disturbing news." Um, what? Just STOP. Trying to answer complaints, answer requests for reassurance, basically answering anything that has an edge to it, is very risky to continue via text. Our average is 1-out-of-10. Just forget about it and ask for a meeting. "Sweetie, let's get together and talk about this." That's all you need to know. It's never gone afoul when we are able to actually talk. Yet. (grin)
6. The First Three Months Are Not Reality
We're still pushing boundaries, still finding rhythms, and still managing two single-parenting schedules to try to find time to be together. The good thing is we ARE trying to get together. We're both trying. We both make efforts. And that's enough for now. Just as the long-distance relationship has a tendency to create a honeymoon extension, the single-parent dating cycle is quite gated by our ability to find the time to be together. That's probably a good thing.
7. All About the Kids
In the end, our kids come first. We've got to make them the priority. They are dependent on us and our availability. Our adult relationships are not. Your "dating" needs to be able to weather some disappointments. When the kid is sick and the date doesn't go off as planned, it's got to be okay. And that goes back to the idea of single parents dating other single parents. We get it. If at some point in the future we decide to blend our family lives more, we'll have more insight into the inner workings of the other parent-child relationship. Until then, we should butt out of all things kid-related. Other than giving their kid priority access to them, obviously.
8. I Have No Idea
Where are we going? Why should I really be concerned about not knowing what the future holds in store for me and my special friend? There are over a hundred things that could upset the apple cart in the next three months. Why spend energy and time trying to figure the future out? Don't. Go read some Power of Now. Go for a walk alone when your new partner can't make it. In the end, go on about your lives as if…
As if the other person is just a nice-to-have and not a must-have." Going that far, and putting too many expectations on the future of your relationship is enough pressure to blow it up right there. Don't kill the heat by worrying about the fire damage.
Always Love,
John McElhenney – life coach austin texas
Facebook  | Instagram | Pinterest |  @wholeparent
Get the complete single dad story with John's new book: Single Dad Seeks (available in all formats)
Related posts: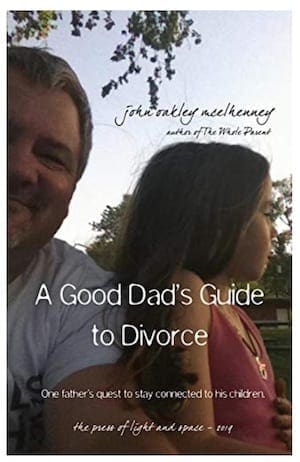 image: single dad, creative commons usage