2021 UPDATE: I was passing through my own story a few days ago when I came across this critically important article.  As you can see my ex-wife was none to keen about me writing ANYTHING about my divorce. Her rationalization was about the kids. Her anger and demands were about something deeper. She knows she made an unforgivable error in our marriage. She's flipped out at me ever since. I suppose I get it. I've been waiting for her book or blog to contradict my account. More likely that she and her new husband are ignoring me with weaponized indifference. She perfected that weapon while we were still married. Good luck to the new husband. Namasté!
+++
I've been blogging about my divorce since before my divorce was final. I started an anonymous blog (The Off Parent) to hide the journal of my anger, sadness, and loss. A few weeks back, with the publication of my book (Fall of the House of Dad) I unmasked the "off" parent as the same guy who writes the "whole" parent. At this point in my kids' lives, they are old enough to read or not read my divorce stories. They don't or haven't mentioned it, but I suspect eventually, in their 20's or 30's they will ask the question, "I wonder what happened to our parent's marriage." I have done my best in the nine years since the divorce to keep the Whole Parent 100% positive. I have failed occasionally, but for the most part, this blog has stayed true to the mission.
100% Postive
Kids First
Mom-friendly
But right off the bat, even with the Whole Parent, my ex-wife has been furious about my writing this blog.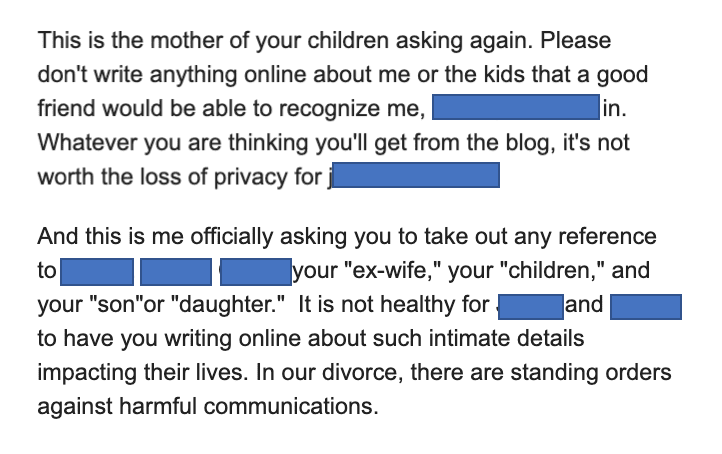 I don't think it was about the "harmful communications." I do think it was about being exposed in some of her more egregious actions. But, the majority of those have been published on The Off Parent and not here. And I have often wondered if this is what she's still mad about: this blog tells our story. For better and worse, this blog documents my side of being a single dad and dealing with the fallout of the divorce for me and the kids. I cannot be concerned for my ex-wife's feelings at this point. It's still painful to me that we can't co-parent, but perhaps it's more about this continuous writing about divorce and ex-wives that seems "harmful" to her. Or maybe just her self-esteem.
As I went back and looked up a few of the emails she wrote to me about this writing topic, I found these two messages.

And with that our conversation came to a quick close. We were in disagreement. She would consult with her lawyer. I would continue to write about the divorce. But the last bit of information I said to her, I see now, is a poorly veiled threat. Maybe this is what keeps her blood boiling nine years later.

And, I do think I have derived a tad of satisfaction in imagining the day my son asks me, "What really happened, dad?" I don't expect this conversation to happen anytime soon, but I know I would've asked my dad, had he still been alive.
My kids deserve to know the truth about the divorce. All of it. My side of it has been worked out here and on The Off Parent. And in the meantime, I hope my journey has empowered and informed some of the half-million readers I've had. I don't mean to damage my ex-wife or cast shade at her new life and new marriage. At the same time, I don't need to carry her water any longer. When the deal went down she asked for the divorce and fought against me when I wanted to keep working on it.
She did not want to go back to full-time work to support our lifestyle.
She talked to a lawyer before talking to me or our couple's therapist.
She asked for a collaborative divorce, but had already made up her mind that she was going for the "package."
She received the lions share of the kids' lives (70%), a healthy child support payment ($1,500 plus insurance coverage for the kids), and she got to say in the house we bought on my down payment and my salary for almost 9 years.
So she's mad. She got what she wanted and she's still mad. Oh, and I'm still writing. I guess that's the hot poker that is still painfully inserted and irremovable.
Always Love,
John McElhenney – life coach austin texas
Facebook  | Instagram | Pinterest |  @wholeparent
See more from The Positive Divorce section:
Related posts: