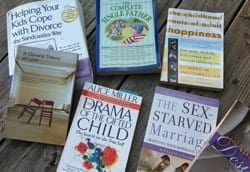 Divorce, Kids, Love, Self-discovery, Sex. A Reading List.
(Amazon Affiliate Links for Easy Location)
TOP PICK: The 5 Love Languages by Gary Chapman (if you don't know your love language, or the love language of your significant other, you're going to be in trouble. The book I refer to the most as I'm moving into dating again and learning what's MOST IMPORTANT TO ME: TOUCH.
Divorce is a messy business (get the money & anger out of the way and focus on the kids)
What is Love (Redefining what we want in our lives and loves)
Parenting Well
About Childhood (ours, our parents, and our kids)
How Things Went Wrong  (Attempting to Save Your Marriage)
Depression Resources
Dating, Relationships, and Sex
Recovery and Addiction
Leadership and Self Management
** exceptional, must-have, books