… you smile all the time. – song by Wilco, see video below
Being alone is one of the huge bummers of getting a divorce. If you're touch-centered, as I am, the lack of touch is deathly. Hugging huge piles of pillows when I go to bet simulates a lover, but does nothing to fulfill the warmth and closeness I crave. So what do you do when you're lonely? Are there strategies you can take to make "loneliness" less alone and more like an adventure?
Can you see your future as an adventure?
You don't know who you are going to be with. Sure, you're feeling, "I'm never going to be with anybody." We know this despair passes. You will have another relationship if that's what you want. You can find someone. In the meantime, while you're seeking a new partner, there are a lot of things you need to work on. Right now the focus is on you. The adventure begins with you. What do you want/like/love/hate to do?
How do you join with others, doing things?
Meetup.com (just open the app and see what's happening tonight, get out of your comfort zone and do something new.)
Church (beyond going to the service on Sunday, are there groups you can join?)
Sporting activities (join a volleyball or soccer league)
Passion Activities (for me that's tennis, skiing, walking, biking)
Online Dating as an activity finder rather than a dating app.
Let me talk about that last one a bit. When I first got on Match and OK Cupid in Sept/Oct of last year, I was in no condition to be looking for a relationship. I was looking for companionship or friendship. I was looking for women to do things with rather than to be with. Even in my profile, I talked about taking it slow, "Friends first, and then let's see where it goes."
In that month-or-so that I kept my profiles active I had several interesting "dates."
My Online Dating Successes and Failures
DATE 1: The first woman blew my mind right off the bat. She was super attractive, had a great smile that seemed to radiate both confidence and joy. She was a psychologist and she wanted to talk on the phone right away. "Yeah," she explained, "I don't think this chatting and emailing is all that real. If there's no chemistry, it's a waste of time." So we talked on the phone.
"How long have you been single?" she asked.
"Six months," I lied.
"Well, we can't date, but we can still have coffee together next week."
The coffee/hello date went really well. I helped her with her business website. (That's what I do for a living and I volunteered.) And she gave me some solicited advice about my recent breakup. She was absolutely correct, I was in no condition to date.
As a rule of thumb: dating someone within the first 6 months of a breakup is asking for trouble.
DATE 2: She met me at the tennis court and we played. She kicked my ass. We never discussed dating. We played tennis about 5 times and then she got busy.
DATE 3: She was dealing with recovery from cancer treatment and had the short-short hair to prove it. We walked around the lake together and discussed literature and the native Texas trees and flowers. After two walks, she said, "There's no chemistry for me." I was surprised, only because I wasn't looking to date her, I was merely enjoying the walks and conversations.
In November I shut all the sites down again. My brother came down with a serious illness and I knew the holidays were not going to be so jolly. So I opted out.
Online Dating Reboot
I did rewrite my profiles a bit. And I added one photograph that showed me in a full-body shot. You can see I'm fit. That's it.
I don't know if it was the change in my attitude that caused the women with the potential to engage with me, or if it was something more cosmic. But the opportunities for "dates" began to show up in a big way. And this time, I think I am ready.
Always Love,
John McElhenney – life coach austin texas
Facebook  | Instagram | Pinterest |  @wholeparent
As a certified life coach, I've been helping men and women find fulfilling relationships. If you'd like to chat for 30-minutes about your dating/relationship challenges, I always give the first 30-session away for free. LEARN ABOUT COACHING WITH JOHN. There are no obligations to continue. But I get excited every time I talk to someone new. I can offer new perspectives and experiences from my post-divorce dating journey. Most of all, I can offer hope.
Get the complete single dad story with John's new book: Single Dad Seeks (available in all formats)
back to Dating After Divorce
related posts:
Next Up on Dating After Divorce: How a little trick on Tinder blew up my connections and blew my mind.
image: Solitude, Jean-Jacques Henner, creative commons usage
+++
Get info on relationship coaching with John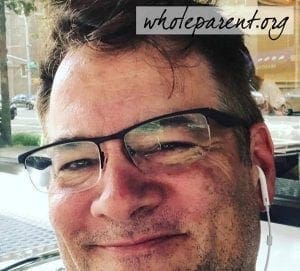 First 30-minute call is free