What's the deal? Online dating is supposed to offer up so many possibilities for us to find each other. To find our mate. But it's not that easy. Here's my recent experience (say 30 days) of seeking a relationship on Match.com and OK Cupid.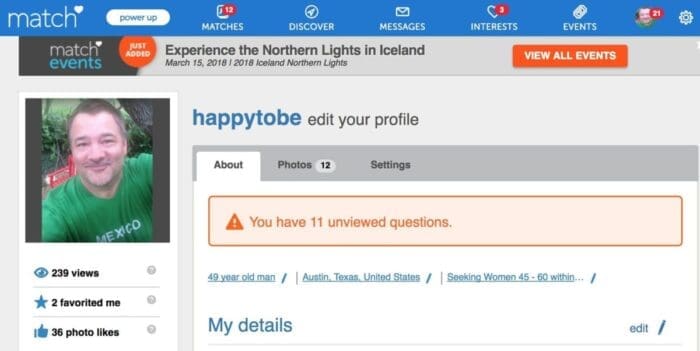 Yes, my profile is still active, but I rarely go to either site and here's why.
Women rarely respond to "hello" messages.
The "new" profiles are far and few. So I've seen everyone.
Once you've said "hello" to all the interesting women, you wait. You say "hello" again. And you wait.
It's a woman's world out there, and they have the power to engage or ignore.
The only women who have reached out to me first we either scammers (trying to lure me off to their other page on another, paid, site.) or women whose profile pictures were actually scary to me. As in, WTF and I doing here.
I wonder if I'm that guy to the women I'm reaching out to? I'm trying to seek within my own age range, plus or minus 5 years. And I'll admit I'm more drawn to the younger end of the spectrum, to a point. And in that respect, I wonder if I'm the "ug" guy that keeps pestering these cute women?
I don't think so. I think my profile shows me in a good light. I think I'm fitter than I've ever been. And I think I'm being realistic with who I am contacting. So what gives?
From my conversations with some of the women I've gone on first dates with, I understand that the online dating world for women is very different. Attractive women get from 20 – 30 offers, or emails, per day. (Even if that number is per week, it's an amazingly high number. I get 1 a week on a good week.) So the women are literally filtering through hundreds of offers and picking the guys they want to respond to. Turns out I'm not that guy. Or maybe I'm not that "first impression" then buried in a full and filling inbox. Either way, I rarely get even a "Hey" back from my "Hi, I'd love to start a conversation," emails. I get nada.
So this lack of feedback is disappointing. And the lack of new profiles is disappointing. And my four dates have had disappointing outcomes. So what's the point? Perhaps, I am deciding, I am still pushing the river too hard. Perhaps I'm seeking a relationship in an aggressive style that really doesn't match who I am. Perhaps I need new profile images that show my newly clean-shaven face?
Or, and I think this is the real answer, I need to give it a rest and just be with myself. Write. Explore. Do my thing. And to be honest, I am enjoying this in-between-time quite a bit. So today, I'm taking another new approach. Fk online dating. I'm not really one to make snap decisions about a woman's attractiveness based on a few photos. And that's not how I go about starting a relationship either. Of course, I'm not going bar-hopping either.
Slow it all down. As I say in my profile, I'm not in a hurry to be in a relationship. I'm looking for friends.
Take care. If you want to talk to someone about love and single parenting, let me know.
Namasté,
John McElhenney – life coach austin texas
Facebook  | Instagram | Pinterest |  @wholeparent
More articles from The Whole Parent:
Here are a few of my books on Amazon: