The Coffee Date
It was a beautiful morning, I was hopeful and ready for coffee and conversation with a new woman. A woman I'd courted online for several weeks. A woman who inspired some sense of sexual interest in her online profile and then actually responded to one of my emails. The day and the meeting was set. It felt like a winning morning.
Nothing happened.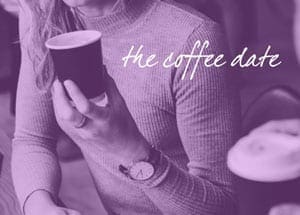 It's my fault, perhaps. I don't know that I'm really INTO IT. I mean, I know I don't like being alone, and I'd like to start "building" a new relationship, but I'm simply not gung-ho about it. I think you've really got to bring a lot of energy and optimism to this dating process. If you're just "meh" about the process, then you will get "meh" in return.
This date was okay. She was attractive. She was interesting. She was not interested in me. The disconnection was obvious. The chemistry was off from the first introduction inside the coffee shop when we first spotted each other. There were no outward signs of dissatisfaction. She was dressed nicely, looked fit and happy. She was chatting with a friend when I came in. I introduced myself and shook his hand too. Then I got my coffee and went outside and waited for her to fetch her fancy coffee.
I think I was already leaning out rather than leaning in on the introduction. I'm not sure what triggered it. I was happy to sit and talk for 30 minutes or so, but we were just killing the appropriate amount of time. We both agreed that being alone was working for us and we had trepidation about bringing someone into our lives. And we both had our doubts about how online dating might provide some realistic opportunities.
She mentioned how many men she met did not match up with their profiles. "Well, how am I doing compared to mine?" I asked. She paused. I was looking for some feedback. Was there something in my profile that I projected that didn't show up at this coffee? "Your profile was pretty sparse," she said, after considering it. She was talking about the words. I was interested in the pictures. I think that's what we key on. I know that's what I key on. Are they cute? (At 55 do women still want to be referred to as "cute?")
Bumble Fail – Dating Fails
The mass of women on OK Cupid and Match.com are not cute. And the ones that are usually ten years younger than me. And the few, this woman was one, who are my age and seem cute-enough for a closer look, are far and few in between. I don't even visit the sites anymore. It's the same faces. The same few women who ignore my emails. And more swiping through hundreds of sad profiles.
What are we doing? Is the reach of our online connection worth the disconnect of our emotional system? There was nothing in our profiles that prepared us for our coffee today. Neither of us felt it. That was obvious. But we'd decided to take the time and the risk to actually meet in person. And I wasn't sad about leaving the coffee shop. In some ways, I'm sure, I was relieved. Those next steps towards "dating" and building a relationship are so complex and time-consuming. I'm happy as I am right now.
The sky started misting as I was driving home. The fall air pushed in the cracked windows and lifted my spirits a bit. It was likely to be a rainy weekend. No tennis. Plenty of work. And no relationship-ing. Okay, I'm resigned to that. Maybe next week I'll open up the dating sites again and see if I can lure another woman into a conversation.
Always Love,
John McElhenney – life coach austin texas
Facebook  | Instagram | Pinterest |  @wholeparent
Get the complete single dad story with John's new book: Single Dad Seeks (available in all formats)
Go back to Dating After Divorce on The Whole Parent
You can find all of my books on AMAZON.
image: blue bottle coffee, creative commons usage