I should be feeling relief and happiness at getting caught up on my child support payments with my ex-wife (err, I mean my kids). I should be grateful for the release of inheritance money that has afforded me and my kids. I should be. But I'm not.
An Imbalanced Divorce Hurts the Kids
I'm going to refrain from retelling the story that I've told so many times here about being railroaded in my collaborative divorce, railroaded into accepting the traditional Texas Family Law process of giving the mom the lion's share of the time with the kids and the hefty child support check. The situation is not that simple. Moms and dads are both valuable to their kids. And, contrary to the popular opinion 8-years ago, when my divorce was finalized, dads are just as important. Read that again, because a lot of you are going to disagree. Dads are just as important to their kids as their moms. And here's the part you're going to get mad about, AT EVERY AGE.
All of my wounds and recovery efforts have been packed into this blog in an attempt to make what was an awful situation into something positive. Today, I got the one response from her that I'll ever get.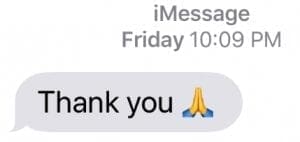 It's more than I expected.
Gratitude for My Ex-Wife
Even as we struggle with her anger and bitterness, I am grateful for my ex-wife. She released me from a toxic and sexless marriage. I don't assume that she's going to lighten up on her aggressive antagonism. I don't assume she's going to begin to include me in co-parenting discussions again. I don't assume any goodwill from her.
When we first got divorced, I counted on the goodwill between us. I did the best I could under difficult circumstances. I suppose we both did. We were all suffering from the crisis and reorientation of the divorce. With several big differences.
She was still in the house we'd bought together (my money as the down payment)
She was getting a second paycheck, tax-free, to support our kids
She was taking aggressive actions against me and keeping me from critical parenting discussions
Again, I really wanted the marriage to work out, but I never imagined that our post-marriage relationship would devolve so quickly into animosity. Silly me, I'm still imagining we could be friends. Be co-parents. But, I'm just that way. Even in the face of her disrespectful behavior, I kept thinking my positive actions would sway her my way. That she would give me the benefit of the doubt. Or really, that she would include me in the parenting of my kids as we had agreed to in our parenting plan and divorce decree. That's not how it worked out.
Releasing Your Ex
So, today my ex-wife is whole. And she's thankful.
I suppose I am thankful as well. Thankful, that I can limit my interactions with her as much as possible. Thankful that I inherited a bit of money so I could ask the AG's office to take the lien off my credit report. (That should only take 6 months or so, according to the AG officer I spoke with.)
I am not happy about the debt because the entitlement my ex-wife went into the "negotiations" about divorce assumed that she would get the kids, the house, and the paycheck. She did. And she's still not happy. Perhaps, me being happy is part of her problem. Oh well, it's not my business to take her inventory or that of her new husband and their groovy life together. It's not even my business to ask for a portion of the payoff (pay up?) to be set aside for a college fund. She not only rejected that request, she slapped at it with an angry claw.
A Prayer for Divorcing Parents
Okay, I think I'm done. There's no kumbaya happening here. I'm blessed to be able to get the AG's enforcement arm off my back. And I'm blessed to be able to make my future child support payments due to a good economy and some gainful employment. And I'm blessed because many dads are left broken and indebted to their ex-wives in ways I can only imagine. I'm going to fight back. But now, I'm going to fight for the future single dads. Now, I'm going to turn my anger into something positive.
Divorce should start at 50/50. Shared custody. Shared bills. Shared hardships if one or more of the parents lose a job. Let the individual couples negotiate in Texas from that position, rather than the inequitable position we are presented with today. I'm just a dad. I'm doing the best I can at being a dad and remaining a strong presence in my kids' lives. And, in spite of my ex-wife's attacks and exclusions, I'm moving forward with my heart and my intentions in the right place. It's the last thank you I will ever get from my ex-wife, and that's fine. From here on out, we're done.
Namasté,
John McElhenney – life coach austin texas
Facebook  | Instagram | Pinterest |  @wholeparent
Related posts:
Here are a few of my books on Amazon: