A drink together says, "I'm with you. I am here. We have time."
As you eventually become an adult, there are opportunities for self-regulation that begin to define you. For example, if food is your thing, you might give infrequently to the call of a Big Mac and fries. And for some folks, the casual drink is the indulgence that gives them a warm fuzzy feeling. But again, as we evolve as adults we begin to look beyond the buzz and towards other objectives.
I've been learning a lot about my relationship with alcohol in the last six months, as I've been dating, and now living with, a woman who likes to drink. And am exploring and dissecting why *any drink* at a certain time of day feels to me like an escape, a withdrawal of some kind. Is it? Is it just me and my projections? Do I set myself above the drinkers because I abstain most of the time?
The other day, I got a chance to understand a bit of my own motivation in not drinking. My sweetie was excited about a new bottle of prosecco (Italian sparkling wine) and I have to admit it looked delicious. It was mid-afternoon on a Saturday. She casually poured two glasses and offered me one.
I didn't mean to, but in some way I shamed her. I giggled and said, "No thank you, honey. I don't want that." I was not trying to be mean, but the giggle was an indication that something else, my own issues, was in play. In some ways, I thought she was adorable with her two flutes of champagne, and in some other region of my brain my reaction was, "What? I've still got things to do, and goals to accomplish." And in fact, I was at that moment contemplating a late afternoon cup of coffee. I was on my way up and somehow the offer of a cocktail felt like an invitation towards distraction, disconnection, debauchery. WAIT! What?
It wasn't that I imagined my sweetheart was a drunk or lazy or something distasteful. But it did rub me the wrong way. It made me feel superior in my denial of the diversion. Again, I was not consciously telling her she was bad, but my giggle said something else, and I wanted to look at what this was.
[read the rest of the story in The Third Glass –  Available Now on Amazon.]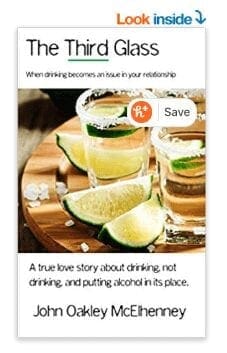 Namasté,
John McElhenney – life coach austin texas
Facebook  | Instagram | Pinterest |  @wholeparent