Even today, nearly the 9th anniversary of my divorce, I feel a deep pain of recognition at what I lost in the divorce. There were the physical things: a house, a neighborhood and set of close friends, a job that came apart under the stress, and my emergency need for housing and regular meals. As a dad, I was asked to drop everything and walk away. The bedtime routines still happened each night, but "dad was on an extended business trip." The trip never ended. I have never gotten to come home to my home, my kids, my nighttime routine, my morning-breakfast routine. I lost everything, while the three of them cruised along without me.
And while it has not been a total party, my ex-wife has suffered very little from the divorce. She got most of the time with the kids. In some respects, I can imagine having a couple of weekends a month off would be a relief. Since she got them the rest of the time. As a dad, however, I was given back 7-out-of-10 nights to be alone. No routine. No kids' laughing. No bedtime stories. No contact.
In the freefall of this loss, I also lost a good part of my mojo. My confidence fell to an all-time low as I struggled to find new employment, and employment this time that would need to pay my ex-wife $1,500 a month, AND pay for my kids' health insurance, BEFORE I could begin thinking of getting a place to live. I stayed with my sister, in a spare bedroom and we made due. And as I licked my wounds alone, I could only imagine the parties that were still going on in my old house. The bathtime fun, the friends over on the weekends, the breakfast and dinner routines. Time. That is the real loss in a divorce. My ex-wife got most of it. I got alternating weekends and an occasional 5th weekend a month.
Today, I can tell you that both my kids are doing well. My son left for college in Dallas yesterday. And again, I wasn't part of that pilgrimage. My ex-wife was kind enough to give my mother and me two updates during the day. But again, most of my experience of my son's "leaving for college" was missed. We had several dinners and celebrations before he left. The caravan, however, was exclusively for my ex-wife and the core family.
A warm fuzzy that brought a bit of comfort and joy at anticipating a different journey in two years.
Dads are sort of pushed out of the core family in many ways. I know in my kids' elementary school, after the divorce, I had a very hard time staying in the loop with the teachers and with my kids' progress. My ex-wife did a fair job of keeping me informed during the first two years, but as they entered middle school she began to ignore the parenting plan and make decisions without me. I had to contact each teacher and ask to be put on their class mailing list. (At the time, the school only allowed one parent email per child.) I had to over-communicate about wanting to be part of ALL parent-teacher conferences. And still, I was left out, purposefully, by my wife, and with a carefree ignorance, by the teacher, who was very apologetic.
Face it, grade schools are run primarily by the tribe of women. And as women and mothers, they are not quite sure how to handle the divorced dads. There is a whispered vibe that the man must've done something wrong for his wife to ask for a divorce. I mean, look at those cute kids, and look at how well she is keeping things together as a single mom. Well, except, she's not a single mom. She's a mom with a former partner who is begging to be included, begging to help out, begging not to be left out. And she's taking action to leave me out. She's choosing to be a single mom because being a co-parent would be harder. Co-parenting involves compromise and another's opinion, two things she had no need to engage in.
As my kids reached driving age, a few years ago, they decided that switching on alternating weekends to my house was too much hassle. I could not argue. The decree could not be enforced against my kids' wishes. So, at that time, I lost 100% of my kid-time. Sure, I still have access to them. I can call them, text them, try and FaceTime them. But now, kid-time is by appointment only, and if you know anything about trying to get a schedule with a teenager… Well, you see the problem.
Meanwhile, my ex-wife sees them every morning, sees them every night. My ex-wife knows my son's girlfriend quite well. I've met her four times. My ex-wife molded my kids in ways that I could not with my limited exposure and influence. And somewhere in there, her unresolved anger at me has spilled over into my son. (Maybe I'm projecting this. We know teenaged sons and their dads, but…) My daughter and I maintain a very close relationship. Yesterday, as she was part of the college-bound caravan she texted me something that warmed every fatherly cell in my heart.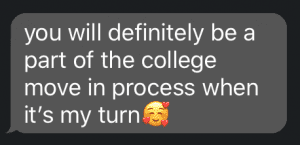 I can't go back and recover the lost time. I wouldn't want a redo in trying to live with the angry woman my wife had become. So, today, I have only the moments ahead to savor and anticipate. I know my son will eventually get over his separation process. And yesterday, for the first time in his life, he is flying out from under his mom's influence. Today, we establish our relationship on new terms. His mom is not there to color the experience. It's not that I think she trashes me, I think she does her best. But her anger still burns hot at me anytime there is an interaction. It's hard to talk about the weather with her, she's still so loaded for me. (I guess that's not my problem anymore.)
I can't walk away from the pain I still carry when I see these old photographs of my kids, just before I lost them. I can still feel a sense of sadness after I've had a "date" with one of them. The minute they walk away I wonder how long it will be until I get to see and hear them again. I guess, dads just go through the empty nest syndrome a lot earlier than moms. And part of that is the injustice of the Texas Family Court system.
I can walk away with a positive approach to the future. My pain is my own, and my kids don't need to hear about it or carry it for me. Their joy is also ahead. And as they continue to mature into adults, our relationship will mature and out conversations about what happened, will have time to be uncovered for healing on all sides. Today, I play the proud papa role and take my sadness to be processed in ways that don't involve them or their mom.
Always Love,
John McElhenney – life coach austin texas
Facebook  | Instagram | Pinterest |  @wholeparent
image: my two kids on the last birthday party before the divorce
More articles from The Whole Parent: