This is PART TWO. The first part is here:  Men and Our Anger Issues: The New Dance of Anger
ONE: We all learn about anger at a very young age.
TWO: Relationships with Dad 
THREE: Anger In Unhealthy Families 
FOUR: Old Defense Mechanisms
FIVE: We've all got anger issues.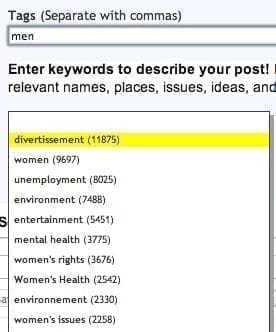 Today as I was entering this post into the Huffington Post publishing platform I was surprised to see this result in my keyword/tag research:
What was surprising is there were no topics/tags that started with "men." None. Zero. Wow. I mean I know HuffPo was started by Arianna, and she's not at all anti-men… but still I do notice if you look at the "divorce" section, where most of my content gets posts, there is exactly ONE male featured blogger. All the rest are women. Okay, moving right along…
We left off yesterday, partially due to exhaustion and partially due to my own overwhelm at writing about anger. And some other stuff… So today we are going to pick it back up when we start discussing how a man (or woman) today can begin to understand their anger and transform it into energy and change for the better.
SIX: Uncovering our own anger.
First, you have to acknowledge that you have anger, that there are things in this world that make you angry. Second, you have to let yourself feel angry. You actually have to get angry and let that frustrating energy begin to bubble up inside you. Then, at this very moment, you need to examine what you are actually angry about? It turns out that we often have "anger triggers," things that make us start feeling angry. And if the upset is minor, that might be all we get, just a blip that says, "that sucked" and we move on. BUT… Often the trigger will connect with something else, something from our past, some unresolved issue perhaps, that is re-energized by the trigger. When we get angry at someone, for forgetting to pick up the laundry, perhaps, and we find that an hour later we are still angry at them, there might be more to the issue than the laundry. Chances are you have connected with something else in your past that needs to be examined and, if possible, released. But anger work is difficult. And if you find yourself with anger issues,  it is recommended that you do this type of discharging with a trained therapist.
SEVEN: Accepting the anger of others, and learning to respond without heating up.
The truth of the matter is that people get angry with us as well. And in the healthy display of anger, this is a good thing. By voicing their anger we get new inputs about what is pleasing or unpleasing to them. This is how we learn. However, if we are anger-adverse, someone else's anger is very frightening. The second someone close to us bursts into anger, it can cause some of us to head for the hills, both emotionally and physically. More common, however, is the mental exit. When someone shows you their raw anger, the typical response is to shut down. To clamp down on your own internal reactions so you don't give away your feelings. If the anger was coming from a parent, the repercussions and withdrawal responses could be ten-times more powerful. When your dad yelled at you as a child, your entire world could be consumed by fear and regret. When your boss yells at you, you might be ashamed and afraid, but hopefully, you can recover enough to carry on. If the person behind you at a stop light honks and flashes the finger at you, you can take evasive action to get out of their way, and not be the target of their frustrations. Finally, if your significant other is angry at you, there are additional levels of "will I be loved" and "will I be abandoned" that come into play.
For the most part, if you are comfortable accepting the anger of others as theirs, you can weather most storms. When the anger is repetitive and relentless, over the course of several days or weeks, for example, there is probably a lot more going on that the surface triggers that keep popping up.
EIGHT: Anger in relationships.
So your relationship is a very deep connection. Any disruptions in this closeness can result in fear, anger, jealousy, rage, depression. When the anger comes out in your primary relationship, you want to pay attention and see if you can hear what the core issue is. If you are too triggered yourself by the anger of your partner, you need to ask for a timeout and get help. The worst thing you can do in a relationship is try to deal with someone's anger by shutting down or mentally exiting the relationship. This is how affairs and ultimately divorce happen. Anger is hard. But it is essential for healing the trust between to people. If your partner gets angry about the dry cleaning, but stays angry all day, even after you've gone back out and retrieved the dry cleaning, there's something else up. Go get some assistance to help you both uncover the core issues that keep causing minor triggers to become huge "relationship issues."
NINE: Anger and our children.
We are always teaching our children, even when we think they are not watching or listening. Like little telepaths, our children are acutely aware of the signals in our relationships. They are still much closer to that empathic system that allows them to read a person's attitude merely from the tone and facial expressions. That's how they go along as infants before they even understood our language. So when you are your partner are having a spat, believe that your kids are absorbing all of the information they can to help in their own survival. If you or your spouse has anger issues and begins to yell and threaten, you can imagine that the impact on a young child, would be even more dramatic. They don't have any other options, in their mind. This is their entire world, and somehow something is very wrong.
So as parents we are doubly responsible for managing our anger. And even if we think our kids are sheltered from the storms, they are tuning in much more than you can imagine. So, as you experience triggers it is important that you and your partner have healthy ways to resolve the "issue" quickly and without drama or yelling. Triggers, and even anger issues, happen. The more you can channel those away from your family and into a therapy session the better. Once you both have a handle on the major upsets the triggers are easy. But know that how you deal with the anger, is the appropriate anger response you are teaching to your children.
TEN: Healthy and Honest Anger can heal us all.
So we get angry. And our entire family is involved in the dance of anger, when someone let's a fireball rip. What we do next is of critical importance. If everyone runs for shelter and the raging person simply gets what they want, we may be setting an example for acceptable behavior that will haunt us and our children for years to come. If, rather, we learn to share healthy anger (often expressed as a disappointment, rather than a "you did this wrong") and we talk through the resolution, even with our children present, you can see how this healthy interaction can lead to more confidence and comfort around angry people.
It is important to learn about the dance of anger, for men and women. And it is even more critical to understand the enormous impact your dance of anger has on your children. Give them healthy examples of dealing and discharging anger, and you will give them tools to deal with their own anger and anger of others. Show them how anger can be contained, and how the loving family can remain even when anger is occasionally expressed.
In my marriage, perhaps we hid too much of the anger. My kids don't have many healthy examples of anger negotiation. And thus, even as young middle-schoolers, their response to anger is often to shut down completely, and even cry, depending on the severity of the anger. And this is anger not directed at them at all. We've got some work to do, showing them what healthy anger looks and feels like. And I'm sure as they enter their teens we will have plenty of opportunities.
Please take an opportunity to leave your feedback and experiences in the comments.
Always Love,
John McElhenney – life coach austin texas
Facebook  | Instagram | Pinterest |  @wholeparent
As a certified life coach, I've been helping men and women find fulfilling life after divorce. If you'd like to chat for 30-minutes about your dating/relationship challenges, I always give the first 30-session away for free. LEARN ABOUT COACHING WITH JOHN. There are no obligations to continue. But I get excited every time I talk to someone new. I can offer new perspectives and experiences from my post-divorce journey. Most of all, I can offer hope.
reference: The Dance of Anger: A Woman's Guide to Changing the Patterns of Intimate Relationships
related posts:
image: rage and love, creative commons usage