Does the divorce of someone near us cause us to consider divorce as a viable option?
Did my divorce encourage my ex-y's best friend to leave her husband too? The green grass thing… Yeah. Not so much!
Here's what I want you to know about divorce, especially when you have kids: IT SUCKS.
All this positivism I preach here. All this self-improvement, dating, love poem bullshit is really just my new part-time job since I have all this time on my hands. It might have been harder to write a love poem to my ex-wife when we were still married, but I was trying. Love songs? Check. Love letters? Check. Love advances, requests, seductions, pleadings? Check.
There was a survey I found before our divorce process was in full swing, that showed a majority of divorced couples reported 3 and 5 years later, that they WERE NOT HAPPIER after their divorce. Hmm. Something is out of whack here.
Top Reasons Not To Get A Divorce
The kids, the kids, the kids.
Money gets even crazier. And even harder to talk about.
Your best friend is still there, they are just scared and angry. Work through that and…
The shared history is hard to come by and impossible to erase.
Finding true-connected love is a long shot.
Maybe things have gotten hard. I mean really hard. Maybe sex happens once or twice a year. Maybe the loving feeling was lost and now you've got more of the tolerant roommate vibe going. Maybe you're craving something to liven up your life, to wake your ass up.
All that shit is workable. You, waking your own ass up is all that is required.
Oh wait… There is the other person too.
Top Reasons To Get A Divorce
You are waiting, have been waiting, continue to wait, for the other person to change.
Things have gotten abusive.
The kids are suffering under the lack of joy and love in the house.
Infidelity.
I remember having a friend come over for dinner with the ex-y and me, while we were deep in the discontentment part. And this loving guy, who'd just recently split from his live-together relationship of 17 years, was going on and on about this new younger woman he was dating. And the amazing chemistry (mostly about sex) that he was getting from being with someone "so new" and "so fresh" and "amazingly creative."
I felt like a cuckold. My then-wife was in some sort of freeze-out period going on two months, and I sat at the table listening to my friend's joy and enthusiasm, thinking, "I am in hell. This is what hell must feel like."
See I still adored my wife at that time. But her attention, her passions, and her vibrancy had moved elsewhere. I could understand at that moment, why someone might choose to leave a marriage in search of greener bushes. But, even then and there, I knew in my heart that my friend's joy was not where I wanted to go. I was still determined to work it out with my then-wife. I adored her. I needed her. I ached with the raw absence of affection that my friend's descriptions pointed out, so clearly.
So, at that time, I dug in deeper. I began to express my dissatisfaction with our relationship. I started telling my then-wife that I needed things to change. "I need to be let out of the box of isolation."
I'm not sure how differently men and women are wired, but I learned about Love Languages pretty late in the game. And my language (touch) was not the same as the ex-y's (do something for me). And to be starved of touch, even the little touches, was unbearable. And I got more clear on that miss in my life, and I wanted to reinvent my relationship with my wife.
The problem was, I guess, she didn't want to change. While I was feeling solid in my marriage enough to question the relationship, she was already thinking about leaving. She was seeing the answer outside the marriage. I was still trying to create and revive the marriage I wanted from the sad house we had created.
What I know from Al-anon, you cannot be waiting on the other person to change. The only change you can affect is your own. I had to work on myself and my commitment. I had to invest time in my happiness and not count on the other person to make me happy.
But without cuddling, hugging, and simple touch, I was starving to death, right there in bed, next to a woman I still considered my "match."
Over the course of the next several months, I began to get more and more vocal about my dissatisfaction. And what I learned as we entered the end-game of our marriage: both partners have to want to continue. My ex-y's heart had already been packed away for the next opportunity at love. There was very little I could do to get her to unpack and reinvest in loving me and keeping our marriage alive. I was no longer a priority for her. The priority was figuring out her options and making a decision about when and how to leave the marriage.
In my mind, I was coming from a place of confidence and commitment. I wanted this marriage. I wanted my family. I loved my house, my life, my wife. And I was confident that my joy and hard work would re-warm her heart, and we would see bright days again. I was wrong.
Today, looking back, three years later, I ask myself, "Am I happier now? Am I better off?"
Two hard questions. I'll take the easy one first. Am I better off? HELL NO. The financial hell is partially a result of our divorce. Now we're trying to afford two houses, cause we're certainly not going to live together, and the economics are hurting us both. We are floundering. We will find higher ground, but at the moment, I haven't been in a lower place financially. And still…
Am I happier now? This one is much harder to parse.
Emotionally, I am much happier than I had been in the last two years of my marriage. What changed that turned the whole enterprise sour, I don't know exactly, but it had a lot to do with money. And when you are tossed into the void of alone time following divorce, you've either got to figure out that relationship with yourself again or rush to try and fill that void with another relationship, as my ex-wife did. I have been thriving in the alone time. UM… After I got over being terribly depressed. But today, I'd say, in spite of the financial crisis that is looming, I am happier than I remember being for a long time. Ever? No. But I'm happy.
Happier as a parent? Sure. Now, my kids get a fully-focused dad. When they are with me, it's a bit like vacation-dad, but that's more about the imbalance of time, rather than my approach to being a dad. I am back to my joyous-self. And my kids see this. They tell me how happy I am, how they notice my joy, all the time. And I am rubbing off on them. I think their balance is pretty good. They are both a bit freaked out by any type of conflict (the ex-wife and I didn't really fight, so they don't have very good examples) but good and smart kids, making their way in this new two-house reality.
But happier? As in happy? I don't think so. I had the belief that the ex-wife and I could regain our initial joy again. I still had glimpses of it. And I still desperately wanted to be with her. (Note: I don't want to be with her anymore, but this is due mostly to the ongoing damage she continues to hurl in my direction.)
I believed until the day she revealed that she had already consulted a lawyer, that I was fighting to SAVE MY MARRIAGE. I didn't know the other half of my marriage had already left.
Namasté,
John McElhenney – life coach austin texas
Facebook  | Instagram | Pinterest |  @wholeparent
related posts:
You can find all of my books on AMAZON.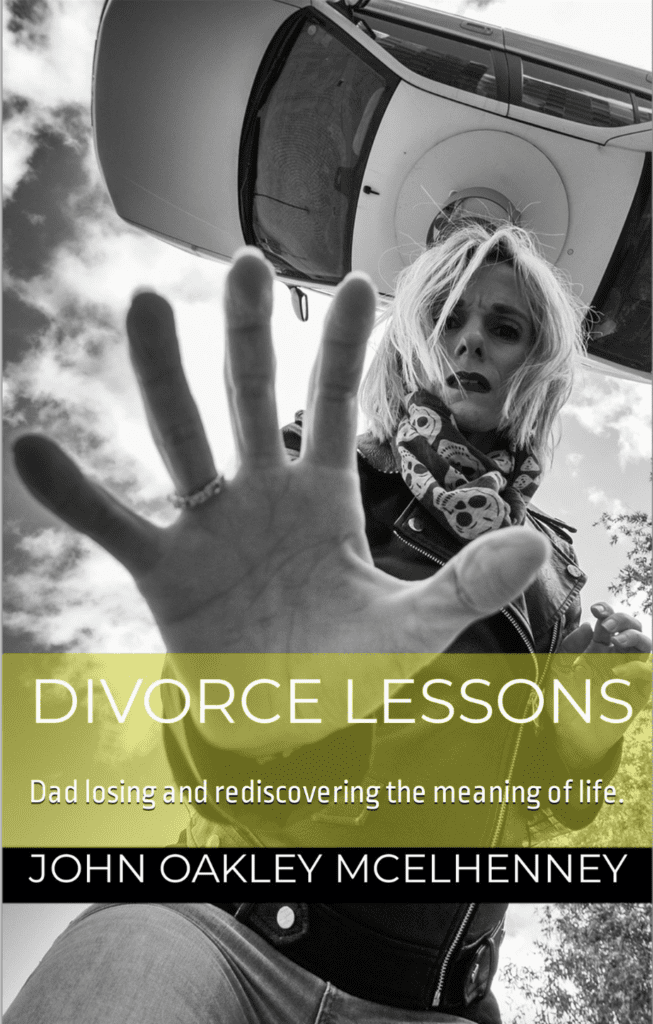 image used via creative commons: girls whispering