A recent online dating study says: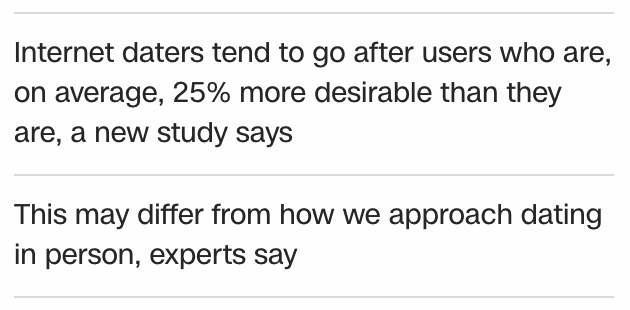 Here's the language from the introduction of the study:
We find that both men and women pursue partners who are on average about 25% more desirable than themselves by our measures and that they use different messaging strategies with partners of different desirability. We also find that the probability of receiving a response to an advance drops markedly with increasing difference in desirability between the pursuer and the pursued. Strategic behaviors can improve one's chances of attracting a more desirable mate, although the effects are modest.
I get the concept, and I certainly understand the tendency to swipe right on the real cute women, but… 25%? Yes, they did some analytics mojo to come up with that number based on the number of responses someone gets and the number of initial contacts someone gets. Those numbers are not the same for men and women. Not even close.
In my experience, women reach out to me ONLY when they are not getting enough opportunities. And that, right there, says something about that person's desirability. And I was getting discouraged when I would get the notice from Bumble or Tinder
And every woman I would see, the ones reaching out to me, were… well, let's just say they were low on "my" desirability rating.
The women that I've talked to, who were cute, were flooded with invitations and offers. Even the medium-level hotness, would have several offers and contacts a day. As a guy, I get one or two a week. Well, that is until New York, yesterday …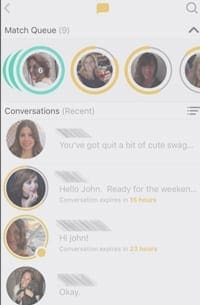 Does that mean I'm high on the desirability list? Or does that just mean there are millions of women in this city? Certainly, density has a bit to do with it. And, on Bumble NYC, I'm new. So the app is showing me to a lot more people today than it will in a week. But, of course, in a week I will be back in Austin.
And, to be honest, I'm not looking for a long distance relationship. And, I'm certainly not looking for a hookup. But the game of online dating is fun to play even when you have no intention of consummating the connection. Now, I would go out on a coffee date if it were offered, but mostly I'm just getting a feel for what a traveling dater might experience. I do know that people use dating apps to hook up while they are traveling. Many of these folks are in relationships and simply want to cheat. (Bad form, in my book.) In my case, I am not attached at the moment, and the fantasy of a long distance relationship with a beautiful artist in NYC has some appeal. But, that's not really what I have in mind.
Here's what I'm noticing in less than 24-hours on Tinder and Bumble.
Bumble is much more active and connective than Tinder. (Perhaps that the woman retains the control over the initial messaging, gives women a feeling of security)
The women contacting me here are not marginal. There are some absolutely beautiful women, reaching out to me. (Does this mean NYC has a lack of available and reasonably good-looking men?)
I find the mix of women to be a bit older and a bit more sophisticated. (Maybe I'd be the younger catch for someone.)
Women here are not afraid to say hi. (In Austin, I've had a ton of connections on Bumble expire because the woman never contacted me.)
The conversations, when started, are the same in Austin as they are in New York. (A few of the NY women have started out with a flirt, which feels different and exciting.)
I had a really nice conversation with a woman who lives a bit further outside the city, but when I revealed my hometown she was clearly no longer interested. We exchanged pleasant, "Good luck on your journey" messages and moved along.
And I don't expect to even have coffee with any of these women. I'd give it a shot, but I'm not trying to spoof anyone into thinking I live in NYC. And I'm not trying to hook up. But the first, the idea, the concept of all these women looking for partners. Well, it's intoxicating. And, certainly, NYC has a lot more women than Austin, Texas. And there is a different type of woman up here. More confident. Better educated. And bold. There is a definite boldness to some of the women's "Hello" messages. I like that.
As far as the study and aspirational online dating, well, I think that's the point. We aspire to find someone we really click with, we're really attracted to. For cute women, that means they've got to weed through hundreds of messages to find the honest offers. For less-than-cute women, that means they're going to have to reach out to many men to get any opportunities. From the man's side, I know I'm going to have to reach out to tons of women to get ANY responses. That's just how the game is played. I do have very low expectations when I send a message to a super cute woman, that I will ever hear back from her. And the study does support this issue. Again, however, it's very different for men than it is for women.
Am I aiming above my own attractiveness level? I don't know. Do the women I find attractive get overwhelmed by the herd of men pursuing them? Probably. Is that a problem? With online dating, yes, I'd say that's the main problem. Real conversations between real people who are mutually attracted to each other (even if it's only profile-deep) are rare.
Does that make aspirational online dating bad?
No. In fact, I'd say the opposite of what the article's summary says. Rather than having more pints with more women from online dating, I'd have fewer meetings with online potentials. I'd use the online input as information and begin to refine my wants and desires. Then, take it into the real world and look for those women. Approach them only when there's an opening. (They're not married, they initiate a conversation, they flirt.) And take it from there.
Online dating is fine as part of your strategy. I've learned a lot about myself from swiping. And my last relationship came from OK Cupid, and it was marvelous. So, online dating does increase your reach quite a bit, if you have the patience to play the numbers game. For women to filter through all the offers. For men to put out a ton of offers and hope for one attractive response. Then, get out there in the real world and figure out where you future mate might be spending her Saturday morning and go there.
One additional observation: As I've contemplated letting my hair go grey, I noticed NOT ONE woman in my age range has grey hair. Okay, there was ONE.
My kids arrive tonight and we have a full schedule for Friday and Saturday. There's no time for a relationship initiation. But the game of online dating sure seems more active and more fun up here. And, now that this post is written, I will probably share it with any potential coffee meetups, just to give them the full picture of who I am.
"Coffee anyone?"
Namasté,
John McElhenney – life coach austin texas
Facebook  | Instagram | Pinterest |  @wholeparent
back to Dating Again
Sources:
You can find all of my books on AMAZON.
Available on Amazon