If you've been with us long, a reader, you'll know I've written a lot about drinking and it's role in our romantic relationships. Here's my bottom line: drink if you want to. And, in the last 8 months, I've started having a drink or two on special occasions. It's not that I don't want anyone to drink. It's not that I don't want anyone to get drunk. It's more about giving people a bit more self-awareness around their drinking and how it may be affecting themselves and those around them.
The Third Glass
The third glass became a metaphor for when my partner went tipping over from buzzed to impaired. What I'd like you to know, is that when you habitually drink to obfuscation you are self-medicating with alcohol. It might be healthier to get some therapy or coaching to see if you can break out of the evening battle with suppression and escape. If you like to drink every night, that's up to you. If you drink every night to the point of forgetting and isolation, that's a different type of drinking. My goal with this simple and small book is to help people become aware of their habitual drinking and to take a self-assessment about how it might be affecting their relationships.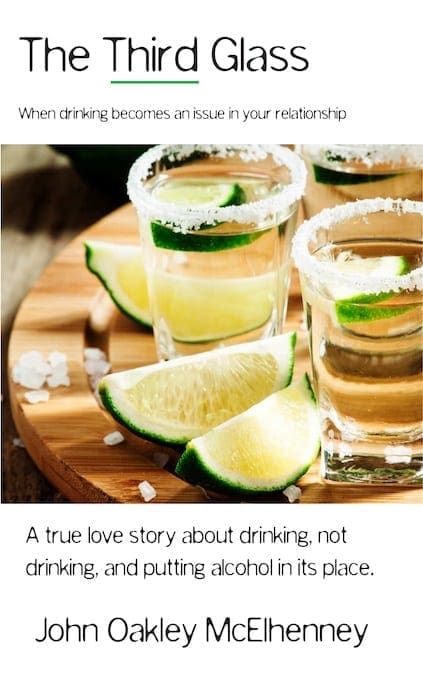 My hope is that in writing this book I give some people a new perspective on their own consumption of alcohol and how it may be affecting their lives and the lives of their partners and family. You don't have to be an alcoholic to take charge of your relationship with alcohol. It's a powerful drug. It should be used with respect and care. When drinking becomes habitual and destructive, it might be time to get some help. In these pages tell my own story, my own love story with a person to really liked to drink.
May you find peace in your life, love in your relationships, and a sipping tequila that you dip into occasionally.
See The Third Glass on Amazon.
Always Love,
John McElhenney – life coach austin texas
Facebook  | Instagram | Pinterest |  @wholeparent
As a certified life coach, I've been helping men and women find fulfilling relationships. If you'd like to chat for 30-minutes about your post-divorce challenges, I always give the first 30-session away for free. LEARN ABOUT COACHING WITH JOHN. There are no obligations to continue. But I get excited every time I talk to someone new. I can offer new perspectives and experiences from my post-divorce journey. Most of all, I can offer hope.
related posts: