"Dear future lover, I'll meet you out there… Okay?"
There's a zen saying about trying to push a river. You can't do it. The river is going to flow regardless of your efforts and flailing about. Dating is like that too. There's a process to this journey, and you can't force it. You can try and push the river, but eventually, you're going to have to come back to this fact: there is a relationship out there for you, but it won't arrive until you are ready and willing to do what it takes to make a loving relationship work. Let's explore this idea.
Here is what we know about online dating and dating in general:
There are a lot of people out there in various stages of looking for love
Many of these people will not be attractive to your particular tastes
Many of these people are not very healthy and should be avoided
Many of these people may have sexual chemistry that arouses you
For some reason, it's not easy to find a loving relationship, in spite of all the available people
What's Wrong with Online Dating?
There are a number of problems with online dating, but let's take a look at the fundamental flaw in our swipe-and-repeat dating approach to finding love online.
You cannot get an honest picture of a person from their bio and photos online. You might sense attractiveness. You might enjoy some of the same leisure activities. You may even find a real person who's also interested in dating. BUT… Until you meet up, in person, and to work out all your projections and fantasies, the majority of dating profiles lie. We've all got cute photos. We may not be that cute when we wake up in the morning. We all like "long walks on the beach" and "travel" but what about those two data points gives actual information? Profiles and profile pictures, even if the person is trying to be honest, are at best a bit like glamour shots. You might look like that from time to time. You might like to "go see live music" from time to time. But that photo doesn't convey the heart of you.
We Find Connections or Misconnections In-person
In my experience, until I have met someone in-person I have no idea if they are actually that attractive, that interesting, or that compatible. That's what we all want when we are looking at OK Cupid or Bumble. We want to find our "match." The reality is: true matches are hard to find. And the online dating business is making a lot of money convincing you that the love of your life is waiting online. We just need you to subscribe to the BOOST feature for $19.95 per month, and we'll show you the good stuff.
The business of online dating is booming. And there are millions of us out there, looking, seeking, trying to be honest, and subscribing month-after-month to premium dating features. It's not working.
It's not working because we need to start the fantasy with face-to-face meetings. Before you actually meet someone in person, everything you imagine about them is YOUR projection. Your fantasy. Yes, that photo is beautiful. And, that photo was taken five years and two lifetimes ago. Until you've breathed the same air, shared some small talk and some big talk, there's not a lot to go when evaluating someone's compatibility. A handful of photos. Some snippets about their wants and passions. But until you've arranged the "hello date" it's all bullshit. Sorry, online dating is full of fake accounts, charlatans, and people who are not right for you at all.
Don't get too far along down your dating fantasy with someone before meeting them. 9-out-of-10-times it's going to be a waste of time. If that's entertaining to you, go ahead. I was not visiting online dating sites for entertainment. I was seeking another person interested in forming a lifetime bond. And guess what, I found her offline. Not on Bumble, Not on OK Cupid or Match.com. I found her doing something I loved to do. I aspired to find my next partner on the tennis court, and guess what? It took a while, but that's where I found her.
Why Offline Dating Is More Honest
If you know what you want to do with a partner, go do it by yourself. If you want to find a running partner, join running groups. If you want to find someone who loves snow skiing, join a snow skiing meetup.
You need to imagine where you want to be and what you want to be doing WITH A PARTNER, and then show up at that activity by yourself. You need to become self-empowered and self-confident as a single person. You need to become someone who does what makes them happy and looks for someone to join them on the journey.
What are you doing this weekend? Do you say you "like to see live music" but don't ever go out by yourself? Hmm. Do you like meditation, yoga, or church? Go there. Seek out your people doing the activities you love to do. Find your tribe of happiness, and when the partner arrives, be aware, alert, and darling. You are only going to find the next love of your life, by learning to love yourself at the highest level. Part of loving yourself is learning what YOU love to do, and then doing it. That's actually a life path. Do what you love and the rest will follow.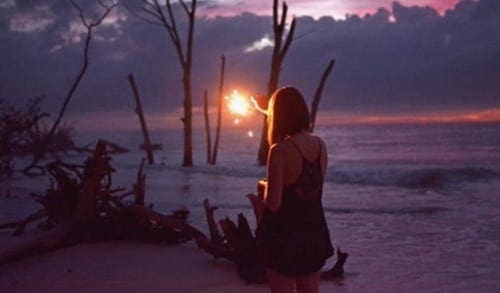 Show Up For Yourself
When we find ourselves single again, it is important for us to pause and reflect. Not only on the failure of our past relationships but on our failure to love ourselves first.
Love yourself just as you are. Find out what gives you joy with our without a partner. Fantasize, sure, but then put yourself in that fantasy in real-time. If you love Mexico, go to Mexico alone. See what you would do on your own. Part of becoming a great partner is learning what you love about yourself. Then when you meet potential mates, you are already fully-formed and fully-activated in your life. The most attractive partner is one who is not looking for their next relationship. The most attractive lover is in love with their life and the path they are walking without you. When you show up, either their eyes will light up, or they won't.
If you are doing what you love, you may find another person who loves doing that same thing too. (At that point it's not a dating profile ambition, you have actually incorporated the activity into your life.) Starting a relationship with a mutually loved activity or hobby is a huge advantage over any online dating system or approach.
Get Real and Get Real-time
Online dating is okay if you're trying to maximize your potential reach. But don't spend Sunday afternoon browsing dating profiles hoping to find a partner who is likely to be at a yoga class on a Sunday morning. Go out there and live your life. Use online dating profiles and attractive profiles as launching points to improve your life. There are plenty of ambitious profiles with gorgeous pictures and rocket bodies, and you may aspire to find this type of partner. Ask yourself, what would they be doing today? Then go do it. They might be there.
Again, attractiveness, chemistry, and even lifestyle compatibilities are STARTING POINTS for a relationship. You know that Relationships with a capital "r" are hard work. Make sure you and your future partner are into some of the same things before going too far down the relationship path. Some of the hardest hurdles of finding the right relationship are timing (Is this the right moment for both of you?) and emotional intelligence (Can you own your issues and not blame your partner?) and if you start with a common passion (Sky diving, for example) you're well on your way to solving the riddle.
Know what you want. Be honest about it. Don't settle. And when you are single, fall in love with yourself and your passions first. The right partner is out there. Make sure you are the person you aspire to be BEFORE you run into them. Start with what you love.
Always Love,
John McElhenney – life coach austin texas
Facebook  | Instagram | Pinterest |  @wholeparent
Get the complete single dad story with John's book: Single Dad Seeks (learn what dads are looking for)
The Dating a Divorced Dad series continues:
You can find all of my books on AMAZON.