Online dating is like training wheels for the newly single.
Online Dating as the Land of Plenty
Here's a fun exercise.
Open a new online dating account.
Explain what you are looking for in a relationship.
Describe who you are looking for as a partner.
Build an enticing narrative about what you bring to a loving relationship.
Explore the endless possibilities
What I learn every time I do the online dating reboot (today, with zero intention of connecting) is what my goals are. How things have changed. And, holy crap, I'm glad I'm in a partnership and not looking for love online.
There's nothing inherently bad about Bumble or Match.com. It's the people. Today, I'm a fake account. I'm not looking for a date, a partner, or a future. I'm looking for data. What can I learn about me and my tastes?
In this land of plenty, of potential women of a certain age, we're going to come across some of my YES indications and some of my NO indications. Let's sort these out next.
YES:
fit
happy
feels naturally beautiful
shows interests
NO:
guns
trump
glamour shots
drinks in hand
tattoos
bad hair, teeth, or makeup
private planes in the background
exotic locations
At our age, we should not be "showing off." We should be considering what else life has to offer. The hope is, that by our 50s and 60s, we should have work/money figured out. Another hope is that we've made accommodations in our lives for physical fitness. (There is a lot that glamour and lighting are not going to fix.) And finally, you've got to know WHAT MAKES YOU HAPPY.
Learning About the Dating Pool
It's a good reminder, swiping along on Bumble to see who is available these days. There are certainly a lot of women out there. Some that I've seen before in my earlier runs (say 3 years ago) at dating online. And here's a fun fact, NONE of them come close to what I have in my current partner. Okay, but back to the dating. It's good to learn that there are women out there who want to date in their mid-laties. The problem is with the mechanism of online dating. Swiping is demeaning. Are we all just a swipe away from becoming obsolete and isolated? The premise of online dating (profiles and pics) is a bit of a lie in the first place.
People lie in their profiles. I just passed a friend who's understated her age by about 5 years. No major foul there. And you can tell by some of the photos, that they haven't updated their profiles in 10 years. They are still using the dated shot, where they do look nice. But it's not very authentic. Yes, that's her. But when you meet her for a glass of wine, she's nothing like that earlier sprightly fawn. And then, profiles, words, and ideas. If all you've got is "travel, happy hours, and long walks on the beach" well, you're a pass for me. What are YOU into? I mean, we're not going to be on permanent vacation in Maui. So, what interests you? A partner has to have at least one major interest outside of work and working out.
Online we lie. We fake out the other person. We run into fake accounts. Or like me, today, someone who's not really into dating or finding a partner. They are playing around. Some are paid, from Bangalore India, to pose as hot available women with one goal: convert a free dater to a paying dater. Boosts, bonuses, extra views, extra swipes, even an unswipe, option is available to you at a price. Just a little bit a month. And make no mistake, The Match Group is doing quite well selling us the fantasy about finding romance on their platform.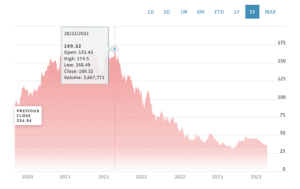 Get this, Match Group is not here to make you happy. They are here to make money. And money happens when you're interested in someone, interested in dating, and you're willing to pay for the hookup. (Connection.) There's just one big problem. The connections are not made online, they are made offline. And online dating is lazy. Open app, swipe swipe swipe, all done for the day. There's very little effort. Just pay some money and see all the available bees in your Beeline (Bumble's premium, skip the wait, feature)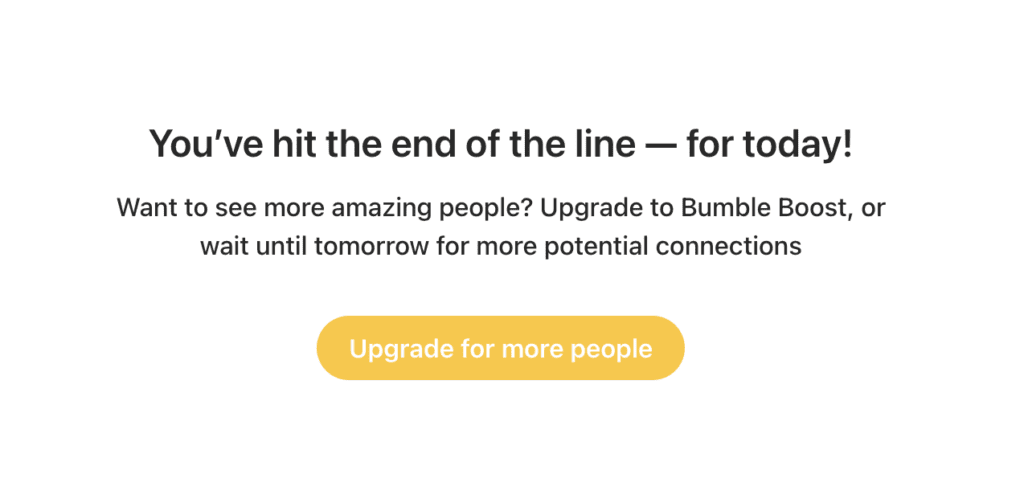 Wait until tomorrow, Bumble says. We will show you another batch of bees for your swiping pleasure. And, fk that, I'm going to pay the $20 to see who's swiped right on me, at this very moment. That's what makes online dating companies so much money. Looking for love? How much would you pay?
Offline Is the Future of Dating
To get a date, a real date, you've got to show up in time and space and see how they feel, smell, look, sound. If you're lucky, perhaps a first-date kiss. "How's it going?" you ask the cute woman across the table after a short round of chitchat.
What if you just start your quest offline by getting back into things that made you happy and healthy before your last relationship? Used to play soccer? Find an over-40 coed team to join. Or sign up to go see the local soccer team. Take a first date to a soccer game? Out in the real world, how much time do you spend in a bar? Why meet in a bar? Meet on the walking trail or tennis court. Get some air and talk about life. Suddenly, you're not hyperfocused on "dating." You're just being friendly and meeting someone in your happy place.
Out there is the only way you're going to find a partner. Out there skiing in Utah, if that's your bag. Out there playing tennis in a Friday Night Tennis meetup. What you want is to find a partner with similar interests, similar lifestyle activities, and mutual attraction. In my case, if I am playing tennis, I'm in my happy place. So I'm really fun and open to good conversation. I once met an exciting woman on the tennis court for a first date. She was furious when she couldn't beat me. We met several times for tennis. She didn't want to date. I sort of did, but then I didn't. I let the casual tennis competition fade. She wasn't all that fun when she was so competitive and not getting her way.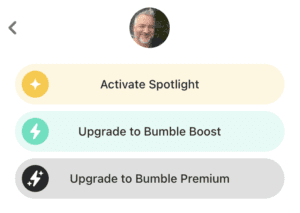 Nope. "This is not the way."
Go offline and discover what you love. Show up there. Look around. Discover others who might have the same passions. It's a much better start than swiping right on a cute photo. SRSLY.
You can find all of my books on AMAZON.