Online Dating Apps Are About Making Money
I hate to break the news to you about online dating apps. They are not in the business of connecting you with your next true love. They are in the business of making money. A lot of money. And get this, if you do find your next relationship, guess what happens, you leave the online dating sites behind. See, it's in their best interest to keep you hooked but not hook you up. Let's explore this idea and see how even Bumble doesn't have your best interests at heart.
Most dating apps and sites are free. But, if you want the premium features, you're going to have to pay. And yes, there are some premium dating sites that cost a good bit of money. And, of course, dating services, like It's Just Lunch and Modern Mingle. There are even dating coaches who will work with you and your online dating experience to find you the mate of your dreams. And as one local dating coach likes to advertise, "You could be kissing by Christmas." Okay, but let's talk about the mainstream dating apps: OK Cupid, Match.com, Bumble, and Tinder.
They all have premium features, membership levels, and "boosts." And these services are are the number one goal of the online dating company: Get visitors to pay. If they can hook you up with a monthly add-on, awesome. And they make it so easy, especially the ones tethered to your phone and your mobile billing system. Want a one-hour boost to show your profile to 20X people? Click here.
Okay, so what kinds of things are they doing to keep you IN the system and not IN a relationship?
NUMBER ONE ONLINE DATING SCAM: Fake profiles
In a 2016 study, here's the tip of the iceberg on fake profiles:
Male profiles are 21% more likely to be fake than female profiles
The most common age listed on fake profiles is 36
However, users listing their age as 64 had the highest fraud rate. One factor contributing to this is the relatively small number of dating site users in this age group.
And there are two kinds of fake dating profiles:
Guys and girls in committed relationships who want to shop around – not interested in dating
Profiles created by the dating site to engage you at the "free level" so you purchase the paid version of their service.
In the first kind of fake profile, you're likely to be taken for an online joyride, fantasy chat, dream adventure that has 0% of actually turning into a date. In the second kind of fake profile, you will likely be led on and teased, enticed, and encouraged to "sign up" for the additional feature that would allow you to actually meet this fictitious person. But that hot guy only 3.2 miles away, that smokin yoga babe who likes your profile, she's probably a retiree in Bangladesh.
NUMBER TWO ONLINE DATING SCAM: Slow-feeding you the profiles in your area
Here's something I've noticed with Bumble and Tinder especially. I swipe and swipe for awhile then I reach the end of my potential partners. So sad. But every few days these sites turn up a new batch of profiles for me to view. Now, I might think, "Oh, I guess Bumble is growing so fast… These are just new profiles." Well, that might account for about 10% of the new profiles, but my guess is Bumble is withholding my entire crop of potential matches, because, they want me to keep coming back, to keep revisiting the site and seeing a few new faces. They want me to run out my 30-day paid period and get excited by these new people and renew my paid membership.
NUMBER THREE ONLINE DATING SCAM: Reshowing you the same profiles, different picture, to make it seem like there are more available partners
Both Tinder and Bumble repeatedly show the same profiles again. They might rotate in a different profile pic for the 2nd and 3rd time they show you Jason, but it's the same Jason. The promise of the app, however, is that you swipe left ONCE and that person is gone. The problem with that idea, for the apps and sites, is they would quickly run out of people to show you. And the high growth rate of new profiles (including the 10% fake ones) would probably not be enough new profiles to keep you interested.
My morning wake up alert from Bumble (these messages used to give me a little jolt of dopamine: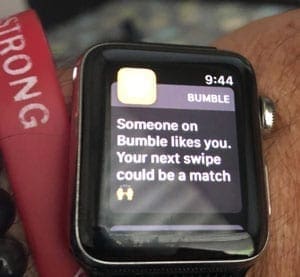 WRAP UP: IS IT ALL SCAM?
After entering and re-entering the dating system several times over the last eight years I've come to several conclusions.
Online dating is an avenue to meet new potential partners
The scammers and fake profiles are easier to spot when you know that they are out there
When viewing someone's profile there is often one photo that gives the real story (Many of their photos might be retouched or from a long-vanished youth.)
You just keep coming back, but the enthusiasm wanes over time (This is why they are gaming the system so hard, they need your dollars to satisfy their investors.)
Offline situations might be a better avenue for finding a partner (I'm thinking Whole Foods Market, a yoga or tennis class, church.)
I have had two amazing relationships as a result of online dating, so it does pay off if you work hard enough and remain authentic
New Offline Dating Mantra
Go where you think your ideal partner might be. Go where you want to be with a partner. They might already be there.
Namasté,
John McElhenney – life coach austin texas
Facebook  | Instagram | Pinterest |  @wholeparent
back to The Positive Divorce
A study of online dating: