Let's talk about sexual frequency?

Will I still be having sex when I'm 64?
How Often Does a Healthy Couple Have Sex?
I used to worry about the frequency of sex in my marriage.
Then I got divorced. And now I worry about sex at all, with someone other than myself.
Well, to be honest, I don't worry, but I do go without for long periods of time. I hear that I could go out seeking sex and probably be fairly successful. I hear that women are into casual sex at our age and now-divorced status. That's what I hear.
Monogamy or Bust
I'm not that way. I'm cut from a monogamous cloth. It's how I'm wired. It's what I want. And every opportunity, since my divorce, for casual sex, I've dabbled, but ultimately turned it down. I don't want FWB. I don't want a one-night stand. (I did that a couple of times in college. No thanks.) I don't want to cruise online dating sites for hookups. Or Ashley Madison for married folks who want to cheat. Gross. That's not me. And that's not my idea of love and sex and what I want from a relationship.
So how much are most people having sex?
You might be surprised to know the average sex counts for dating couples and married couples differ substantially. Or you might not be surprised by that, you might assume that sex will cool after you get married. But what about divorced adults, often with kids, how often are those cute women on OK Cupid getting laid? What's their frequency if they were unbridled by societally imposed limits? I need to ask my friend and OK Cupid serial dater what her experience has been. But she's not looking for sex, exactly. She wants a relationship. She wants long-term. She wants "what's next" to be something that lasts.
I don't know if that's the normal single divorced attitude either. I've met a friend of hers who seems to be more bent toward screwing while it's good and looking for what's next when it gets tiresome. Maybe she's experiencing a pent-up unmet needs hangover from her previous marriage.
A Recent Encounter Provides Some Live Data
I remember meeting a recently divorced woman at a singles party arranged by a mutual friend who was happy to tell me within minutes of our introduction that she had never been fully satisfied sexually by a man. And certainly, since her divorce, she had not been able to find an adequate lover who was capable of keeping up with her in bed. She was insatiable, she said. Obsessive and a bit gross (was my takeaway) but anyway, she formed at least a portion of the single and divorced female demographic. So the answer is all kinds of women, all kinds of needs, all different amounts of sex.
But often for women, sex is not the objective. And some men (breaking the stereotype here) are also looking for something beyond the frequent and satisfactory orgasm.
But when you first get divorced you're sure the time is ripe for ripping up the sheets with as many women as possible. And it didn't happen for me. Not that I didn't go out on some Match.com and OKCupid dates while I was still tragically hurt by my divorce. And not that there weren't any potentially willing partners if I wanted to play-act the dance to get them into bed. But I didn't. I still don't.
Dating Is Not My Goal
I tell most women, early on in the dating process, if the relationship does not have long-term potential then I'm not that interested.
Sex with someone, anyone, is not very much more fulfilling than porn and my own left hand. So I don't look for this type of sexual gratification as an initial part of my dating process. And I'm pretty clear on my dating profiles that I'm not looking to hook up or jump in the sack. (And research on OK Cupid also shows that men putting those vibes out AT ALL, get very low response rates. Very low. So keep your libido in your pants, at least in your profile and opening communications with a woman.)
And there have been a few women who contacted me first, with some sort of "hey your cute" proposition. And the two that I did go meet were really a bit more into it than I was. I simply did not care to proceed, even with a hot woman in a bikini who was downing gold margaritas, to the play that could've led to sex. Nope. That wasn't attractive to me in the least.
Are they still having sex after 50?
So how much sex is everyone having out there? Is there some research we can turn to for answers?  If you look at the scholarly approach to data you get this report: Sexual Frequency Decline from Midlife to Later Life – Journals of Gerontology. And that's really the demographic I'm interested in. (Millennials, who are probably not reading a divorce and single-parenting blog will have to go elsewhere for their data.)
Happiness and Sexual Frequency
Here's the summary: "For women, change in the proportion widowed is a significant factor in sexual frequency decline, as does change in the association between happiness and sexual frequency. Among men, both poorer physical health at older ages and a decrease in its association with frequency are significant factors in the decline. A change in the association between happiness and frequency is also a significant factor for men. Reverse causality may explain the happiness–frequency findings for both men and women."
Okay, but that's a bit technical, can we get a graph or something? Here's the result of an ongoing survey set called the GSS (General Social Surveys).
Okay, but that doesn't really help us parse our men and women and married vs divorced. For that, I went to The Kinsey Institute: sex frequency by age and marital status chart.
First the men: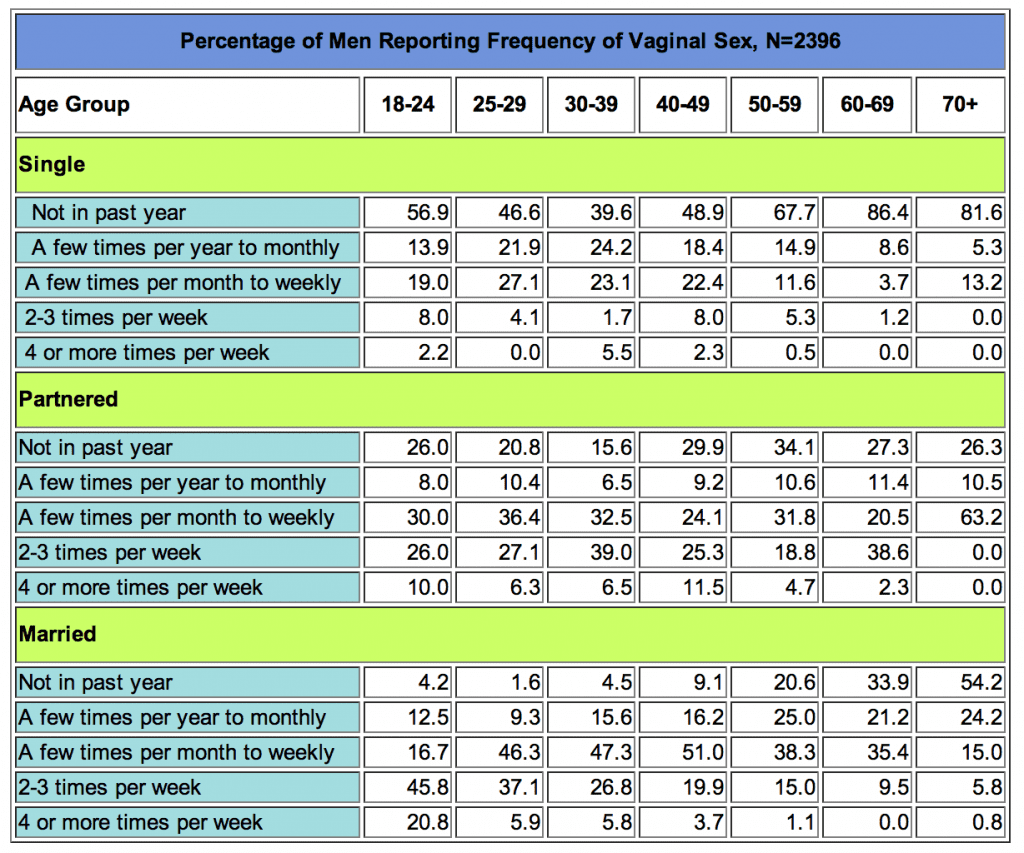 And then the women:
Okay, so to take my age and desired trajectory (I'm being a bit silly here) let's see what this data can tell us about the best relationship configuration for having frequent sex on into the sunset years.
I Want a Long Term Partner Who Also Enjoys Sex
Partnered seems to be the winner. Married comes in a close second and the poor single 70+ dude, no matter how fit and virile he is, looks like he's alone a lot.
Seems pretty simple, but hey, good to know.
Namasté,
John McElhenney – life coach austin texas
Facebook  | Instagram | Pinterest |  @wholeparent