Why is online dating so hard? What is it about swiping, messaging, and meeting that's so difficult? Is it online dating apps and sites? Or is it our approach that sucks? Let's examine.
What Are YOU Looking For?
If you're not clear what your objectives are, you're likely to go out on a lot of hello dates that suck. Many of us are on the dating sites with the "I'll know it when I feel it" approach to dating and this elusive magic called "chemistry." I believe we've got to have a focused and flexible approach to dating (online or offline) to find success.
My Clear Dating Intentions (historical)
I wanted a long-term relationship
I wanted someone who had kids and would love my kids as part of the package
I wanted sexual chemistry
I wanted intellectual stimulation
I wanted a badass who was already doing her thing
And with this set of guiding principles, I was pretty intentional and direct in my dating journey. And… It still took me a number of years, and a handful of failures and breakups to end up in what I considered a healthy relationship. Do you know what you are looking for?
What Are You Hoping for in Your Partner?
And here's where I feel the ACTION items get more clear. What I was hoping for in my long-term partner was someone I could grow with, someone I was sexually attracted to, and someone who was also on the parenting journey. Here's the ninja move, in my opinion.
Imagining myself on a rainy Saturday afternoon (as it is today) I would try and project myself into my ideal long-term relationship. What would we be doing together, this afternoon, if I was in a relationship with a potential long-term partner?
Saturday Afternoon Love Affair
Playing tennis
Doing yoga
Having lunch with our kids
Snuggling under the covers
Finding adventures together
Hiking in the local greenbelt
Snow skiing down the Swiss alps
Doing our thing, but doing it together
Can you make a similar list right now, when you think of your ideal relationship? Go ahead, I'll wait.
When You Have Your Aspirational Partner List
The "ideal" list does not have to be realistic. For example, I might want a millionaire tennis playing woman who's into yoga and tantric sex practices. It's a long shot, but my list approach was not about checking off ALL the traits I wanted. By building an ASPIRATIONAL PARTNER LIST I was giving myself some data points to check in on with any potential partner.
Does this woman of potential hit me on 5 of my 15 ideals? Does she appear to have some of my aspirational traits and be way off on others? It's a bit of a thermometer for you to gauge your potential fit.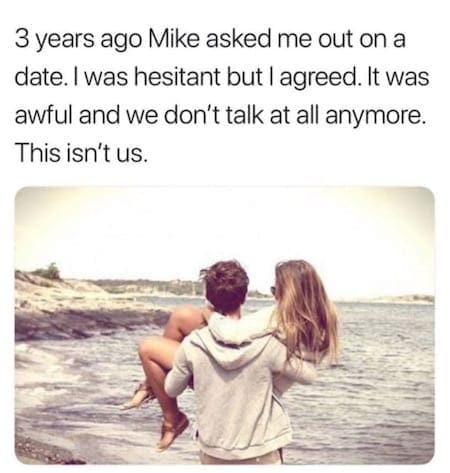 You Might Want to Make a Must-Have and Deal Killer List
It's also important, before you get serious about dating, to figure out what things would kill the potential relationship if you didn't both align on some key points. For example, what if you're partner didn't enjoy sex? Would this be a deal killer? For me, the answer would be a resounding yes. For you, it may be different. By taking a personal inventory of your must-have and your must-nots you can navigate some potential partners long before you waste time meeting in person.
What is Online Dating Good For?
Not all of online dating is bad. I found, after my divorce, that OK Cupid and Match.com offered me hope. At least I could see a handful of attractive women, who (in theory) were looking for relationships in my local area. Online dating browsing gave me hope. The experience of finding and establishing mutually compatible partners via online photos, profiles, and texts was less than ideal.
There's something about online dating that is lazy. It's too easy to just sit and swipe and claim that you did your due diligence for the day. In order to find a partner, in my opinion, you've got to get out there. You've got to put more of yourself into the world. You've got to show up where your potential partners would be hanging out on a rainy Saturday afternoon. If you've got kids, and they've got kids, and it's a typical stir crazy weekend at home, your potential partner might be at a rock climbing gym with her kids. Is rock climbing something you're interested in? Are you going rock climbing while you are still single?
Yes, But What Else Do You Love to Do?
Ultimately, in my case, the relationship rubric came down to "what do you love to do, and then do that."
Here's an example. I dated a long-distance runner once. She was amazing. She loved to run. She was absolutely passionate about running. This was super attractive to me. AND… I did not run. So we would probably never be training for marathons together. I sure did like the way her body looked and felt. And I was never going to be able to keep up with her on a long-distance run. Ever.
While I did not love running. (I did not even like it.) I could find a way to support her and "the WE" in her running. I began riding my bike along the trail while she ran. I would zoom ahead for a few miles and circle back. I learned how to be with a runner, even though I was not a runner. It worked.
Single, You Need to Rediscover What's Important to You
Before you can find your next relationship you've got to be ready. What this means to me, is…
You're not pining over your last relationship
You're not angry over your last relationship(s)
You're fully empowered in your life and love
You are showing up on where you want to be on a Saturday afternoon
If you don't stop between relationships, you may not be evolving in your approach. It's important to be flexible in our approach to finding a long-term partner. We've got to have our shit together. They've got to have their shit together. And then you've BOTH got to be ready. As we like to say, when we're single, "Timing is everything."
Once you've got your lists and you're showing up on Saturdays to the rock climbing gym, you're closer to finding your next aspirational partner.
Make Sure Your Dating Approach is Aspirational
The last insight I have about dating (online or offline) is your potential partner must be aspirational. You must be shooting for the stars. You must NEVER feel like you are settling. You must NEVER feel like you are compromising to be in an intimate relationship.
Again, if I were hunting and dead set on a Tesla-driving tennis woman who looked like she worked out all the time, but had plenty of time for me, I might be hunting for the needle in a haystack. If I know that I want someone who enjoys sports (I can learn golf, if that's their thing) and has a passion that lights up major portions of their life, I have a pretty good measure, to begin sizing up potential partners.
Are you settling in your dating aspirations? Are you in a relationship that feels like a compromise? If your relationship is not heading in the "long-term" direction, in my opinion, it's not worth your time. Wasting time on a relationship that has great sex but horrible emotional connections would be a disaster. A sexy hot disaster. That's going to take you off the market and keep you focused on pleasing someone you don't really really want to be with, long-term.
Always Love,
John McElhenney – life coach austin texas
Facebook  | Instagram | Pinterest |  @wholeparent
More articles from The Whole Parent: