I often get a bit sad or mad when I refresh or repost these earlier articles about my journey into divorce and depression. I see my daughter and I regret the loss of time between us. However, there is nothing I can do about that loss. I feel a moment of sadness. I then find the next right action, to move me and my kids along a healthier path. I'm still working to do better as a parent and to love my kids with focus and intention. – Nov. 2022.
+++
My then-wife asked for a divorce in April 2010, I remember because it coincided with the local interactive/film/music conference in our town. I missed a critical marriage therapy appointment due to a therapist that doesn't text and a then-wife who didn't respond to my text from 9 am, asking if we were having therapy that afternoon at 2 pm. Neither of them replied. I was a no-show.
At the next therapy session, which made it to my phone's calendar just fine, my then-wife confessed that she had indeed been to see a divorce attorney. I'm still not clear if she had let our therapist know, or if this was a planned skirmish designed to keep me from freaking the fk out. But, if you are in couple's therapy with your partner, at some point in the future, be sure to bring "I'm thinking of asking for a divorce" into the sessions BEFORE you actually go meet with an attorney. I was crushed. Deflated. Hopeless. "What have we been doing in therapy?" I asked.
"Me and the Kids Need a Break"
In that same penultimate therapy session, both my still-wife and therapist felt it would be better for everyone if I just moved out for a few weeks. "Give everyone a break."
What?
At this point, I don't think any of us was thinking clearly, BUT… I stood my ground. "If you need a break so bad," I said, beginning to feel my arms and legs again, "You move out for a few days." Neither of them thought that was an appropriate solution. Again, I have zero information about how "clued-in" our therapist was, but wasn't the move-out solution good either way it went down? I mean, if what SHE needed was a break, she should be free to move out for a bit. Leave me with the kids. Leave me in the house. I was up to the task. I was NOT up to just abandoning my kids and my homestead. Nope.
We left the session in a highly agitated state. We made an appointment for next week, but we all agreed it would be a "goodbye session" and not couple's therapy.
Taking One for the Team
My kids were in 3rd and 5th grade at this flashpoint in our lives. We were two months from graduation. I was never going to blow up their lives while they were still in school.
It was the school counselor that talked some sense into my barely-wife. "Please don't do this while they are still in school. Let them have the summer, where they can deal with the divorce."
For the next 60-or-so days we shared the same house and pretended to be married. Her simmering rage, which had been unbridled for over a year, was barely containable. An occasional "fuck you" would slip out of her mouth from time to time. She would apologize. Then do it again. It was a hard moment. And I stuck it out, for the kids. Why should I abandon them, tell them "daddy is on a business trip" and never come back? Nope. Not a good start to a rocky process. Divorce is a business decision in the end. And when the deal is up, it takes months to sort through the money and parenting plans.
By August I Was the Non-Custodial Parent
Don't let the language confuse you. The non-custodial parent has very few rights. In the state of Texas, the Office of the Attorney General works for the custodial parent. It's simple. When you call their number they ask you if you are the custodial or non-custodial parent. See, the custodial parents are only calling because they have an issue with their support payments. The non-custodial parent only calls when "enforcement actions" have been taken. They've frozen your bank account or blocked you from renewing your driver's license.
And as the non-custodial parent, I was handed the Expanded Standard Possession Order. Or the SPO, which works out to about 70% of the time for her and 30% of the time for me. So, let's see how that's far. Double my time with the kids and you're still not up to her percentage of time with them. Even though we agreed to a collaborative divorce, my still-wife did not collaborate when it came to custody and parenting schedules. She said a firm NO, in our divorce counseling session when I asked for 50/50 shared parenting. The therapist took us aside for private meetings when our frustrations flared.
"She knows this is what she's going to get if you go to court. So you might as well agree to it now, rather than waste a lot of money fighting about it." I don't know if she had a discussion with this therapist ahead of time either. Perhaps she prewired the couple's therapy reveal and prewired the divorce therapist's guidance as well. I guess I'll never know. She's not going to tell the truth about it after all these years.
Holiday Depression After Divorce
So, get this. My ex-wife had our kids more than twice as much as I did. She got a hefty child support payment, essentially letting her live rent-free in our nice house. And she got every other weekend off to date and catch up on her rest. On the other hand, I was forced to move in with my sister and her two kids. I had to hunt for a big corporate job, so I could afford the child support and then find a place where I could live. Divorce is very expensive. But the burden of supporting two households falls squarely on most dad's shoulders.
And, as you might imagine, I had a hard Christmas.
How do you reconcile being removed from the typical family Christmas? How do you deal with the 22 days a month that you have little or no contact with your children? How do you afford ANY Christmas presents when you're struggling to buy gas?
My kids did their best. They did Christmas morning with their mom in their house, without me. Then, later in the afternoon, they came to my sister's house for a 2nd Christmas and an elaborate family dinner. We sailed on as best we could, all of us in an altered reality that none of us had any clue about navigating. But my boat was leaking, lacking any privacy, and mostly cold and alone.
Christmas and Thanksgiving Nine Years Later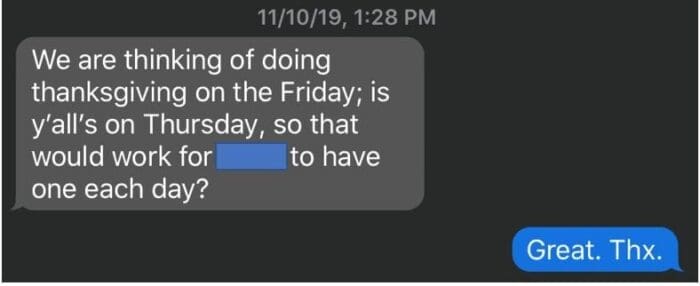 And that's how it's done when your co-parent doesn't want to co-parent with you. All logistics. It's for the best. She's right, it is better for our kids not to have two Thanksgiving dinners. And her "we" is a new Jewish husband who gets to take my kids away every other Christmas to do something blended. Something with his big family up East. Somehow, there is no justice in a new man getting to spend more than twice as much time with my kids.
The funny part was a conversation I had with my 17-year-old daughter a few days later.
"And she was like, 'I asked him about Thanksgiving and all I got was thanks.'" My daughter said she asked her, "What did you want him to say?"
"Right," I said. I think I said 'Great,' but I don't remember. Not much to discuss. Best to not enter into negotiations."
My daughter and I shared some knowing smiles and continued our lunch together.
Always Love,
John McElhenney – life coach austin texas
Facebook  | Instagram | Pinterest |  @wholeparent
As a certified life coach, I've been helping men and women find fulfilling life after divorce. If you'd like to chat for 30-minutes about your dating/relationship challenges, I always give the first 30-minute session for free. LEARN ABOUT COACHING WITH JOHN. There are no obligations to continue. But I get excited every time I talk to someone new. I can offer new perspectives and experiences from my post-divorce journey. Most of all, I can offer hope.
image: the last good christmas, john mcelhenney, creative commons usage
Two other holiday depression posts:
More articles from The Whole Parent:
Further reading for your health and recovery: