She was 88 and lived a big life. Ada Marie Oakley McElhenney.
She suffered big sadnesses. And she was tired. As she sat in her independent living high rise, eating great food, walking less and less, she began to question more vocally, why she was still living. She was happy sometimes and dark sometimes in a way that even scared her a bit. But we all heard her protestations, over the years, especially during the holidays, "Oh I wish I could just move along. It's getting too hard." We all knew she was ready to go. So she went. And none of us were really ready for that moment. No one ever is. She was just gone. And we had to deal with the loss and absence of her joy and her worries. It was all wrapped up together in my mom, in my kid's "Nana."
And she's still here, too.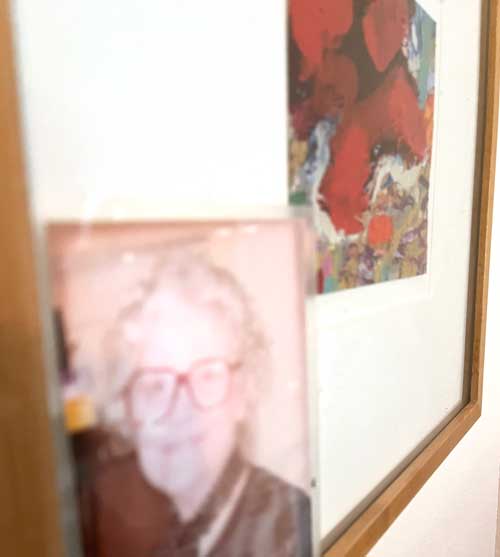 My mom watches over my new house, along with one of her wonderful paintings.
Good Night Mom
I had just started a new big job. After my first full day of work, I was talking to my mom around 7:30 that first night. We talked for an hour about how many trials and tribulations we had been through together. I was excited about the growth possibilities of my new gig, and she was both afraid and happy for me. That was pretty much my mom's modus operandi: happy and scared for you at the same time.
She was a worrier. There was no logical way to contradict her fear when it took hold of her. No amount of reassurance or support would bring her out of a funk. She just had to go through it. (Sounds a bit like me. She taught me how to fear hard places, and avoid hard feelings by dissociating and getting depressed. She showed me what a BIG SADNESS looked like. I grew up with it. I embraced it in my own teenage years as my world collapsed.)
When I hung up the phone that night, she was as happy as possible, given her declining health. Two hours later, as she was trying to fall asleep she had a bit of difficulty breathing. She called downstairs and a woman came and sat with her. She went back to sleep and lost consciousness. She never woke up. She was released.
We Are In This Together
Today, 8-months later, my life is much different. Thanks to my mom's frugal management of the divorce settlement, when I was 10, I was able to purchase a house again. It has been a hard road back from my unwanted divorce which set me back over $1,500 per month for 10-years. (That's after the taxes had been paid on the money, btw.) Anyway, since I lost my post-marriage house in the destressed market of the 2009 economic collapse, I have lived in apartments, my sister's house, my mom's house (twice), and in a girlfriend's rental house. I have lived out of suitcases and in a single drawer for years now. The luxury of having a place to unpack my stuff, to pull open boxes that had not been opened since my divorce 11-years ago. I am home.
My mom made this happen for me. As she would say a number of times over the last few years of her life, "I wish I could just buy you a cute house. But I can't make that happen for you."
Yes, mom, you did.
In the month that I've been rebuilding my life within my new nest, I have felt my mom's joyful spirit cheering me on. "It looks so cheery," she would say about holiday decorations as she lit up her house. "Yes, mom. It's cheery, indeed."
We Are All More Fragile Than We Think
As I am enjoying a bit of an easy period, I am also acutely aware of how hard things were for me, as little as 5 months ago. I paused the big corporate job after my mom passed, and took two weeks of bereavement leave. I told my manager and friend during the first few days, "I'm not coming back." I had learned in my first weeks at this job, that I was not willing to sell that much of my soul/time/energy for anyone else's business. He kept the position open for an additional two weeks, hoping that I would change my mind. I did not.
And then I hit the funk. I was doing the best I could, but I was in shock. And after my mom's service, I gave myself some "healing space" just to be. I put the nest egg in a savings account and didn't think anything about it. I worked on my resume. I continued my quest to get out of marketing as a career move. And I floundered. I saw what retirement was going to look like if I didn't have anything going on. Sure, I had my writing, my tennis, I started dabbling in music again, but I was rudderless.
I am still empathetic to all of those suffering today from unemployment, under-employment, health issues, depression, addiction. I see so much pain and suffering around me. And… In all of this chaos, I owe it to myself and my two kids, to buck up and get my life back in order. So, I kept at it through the long summer. I got more training, got certified as a Customer Success Manager, and applied for job after job. Most of the jobs were in marketing, where the last 20-years of my career lived. But I was tired of selling selling selling, and pushing widgets, even if I believed in the widget. I wanted to do something that had a bit more meaning. I wanted to be "of service." I wanted out of sales and marketing.
Everyone, Yes Everyone, Is Doing the Best They Can
I was doing the best that I could do. I still am. And somewhere, my mom is resting in the joy and comfort that her efforts as preserving her estate paid off. She was so worried in the last 5 years about a fall that would put her in the hospital and drain all her savings. We are all blessed to be spared that suffering. But she did suffer.
I called her every night. Just to give her an "attagirl!" We often didn't have much to say. "I'm just saying hi, tonight." But it was a connection. And while I miss my nightly call with my mom, I have learned to just talk to her anyway. Ask her questions. Share my celebrations with her. And it feels like she is around. I feel closer to her now that she's gone, than I did in the last few years of her life when she was consumed with anxiety and worry about "all of us kids."
Right now, heading into the Christmas holidays without my mom, I know I will feel her loss. But I will also feel her joy at being with us, now without any worry or pain, without the burden of a failing knee. My mom is still with us, she's just not visible anymore. I can't hug her anymore. I can't call her on the phone. I can still call her on the spirit phone.
Finding Our Inner Balance in a World That is Out of Balance
The entire world is running scared. The pandemic keeps morphing. Our jobs feel safe and scary as we face the prospect of going back into the office again. And even in my peaceful pause, with my job, my house, my relationship to my kids, my relationship to my girlfriend… Even in all that is going right, I know the crushing slip could be around the corner. Life is hard for so many. It's not hard for me, at this very moment. But, occasionally feel the fear of "what if…" The epic crash has hit us all recently, and it feels, even for me personally, like we are one failure from ultimate defeat.
I am skipping along the tops of the waves of a choppy sea. I am learning to be present and happy even in this fkd up world. My mom always showed me how to "make plusses out of exes" and now she can do it with a more effective and yet subtle hand. The family around us will always stay around us. My sister, who died when I was in my early twenties, is also been making herself known around the celebration of my house. I can feel them. For the first time, perhaps it's my pause, peace, and presence that are allowing me to pay attention and hear their nudges of encouragement.
If this world is in an unhappy and unstable place, that's just the landscape we have to deal with. We cannot retreat to a mountain top and meditate our way to inner peace. We have got to find this inner peace even in this chaotic and traumatic experience of 2020-2021 and beyond. This inner balance is required for our own sanity. And by establishing and enhancing our own experience of life and love, we are able to share our positive influence with everyone around us.
Get Up, Get On With *This* Life
Be an inner badass. Let the world's struggles flow along like a raging river. Learn the art of Playing Ball on Running Water. Feel your sadness, your longing, and then do what needs to be done anyway. Yes, we're all suffering and struggling to maintain our sanity. And by embracing the positive in our lives, and sharing the energy of our own inner peace and love, we both enhance our happiness and encourage happiness in others. That's my goal in life.
Namasté,
John McElhenney – life coach austin texas
Facebook  | Instagram | Pinterest |  @wholeparent
How I Can Help
I am a relationship coach and a dating coach. I coach women in 1 x 1 zoom or facetime calls. I work in monthly blocks (4 sessions). We establish a relationship. I become your wingman in navigating and sorting through the bullshit of dating and relationships. If you are here, you've probably already read some of my opinions. If we're a fit, we will both know on our first call.
Related Posts:
References:
Here are my books on Amazon:
+++