[Today is my big brother's birthday. He is 64-years-old.  Update: My brother passed from this world on to the next at 1:19 on Tuesday, August 28, 2018]
Breakups are tough. Death is tougher.
Saying goodbye is a part of being a human. Loving deeply and fully is a part of being alive. And when we go deep or experience BIG LOVE as I called it in a previous post, we're at risk for feeling the BIG HURT when someone we love chooses to no longer be in a relationship with us. Or, as in the case of my older brother, crosses over the rainbow bridge.
This is a quote from Jamie Anderson's blog, that was recently shared on a friend's Facebook wall. This post was inspired by the notion that love needs a place to go.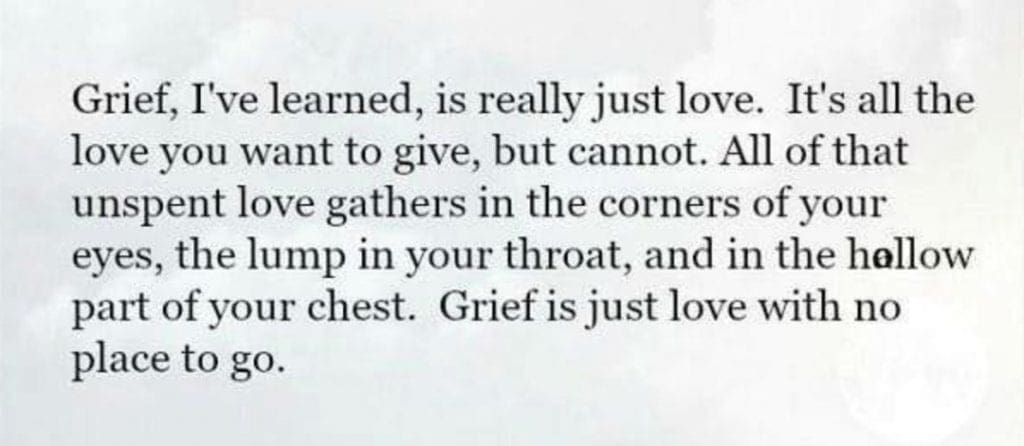 The full quote from Jamie Anderson, is
Grief, I've learned, is really just love. It's all the love you want to give, but cannot. All of that unspent love gathers in the corners of your eyes, the lump in your throat, and the hollow part of your chest. Grieve is just love with no place to go.
Grief is just love with no place to go.
Wow. We've got to continue to give it a place to go. Even when the person dies, we've got to find places to put our love. And our love for this person in our life can be transformed into so many wonderful things. We can feel the grief and the sadness at these times. But we can also be lifted up by the love we sense all around us.
As my brother is dying, I am strengthening the love between my sister and myself, between my girlfriend and myself. I will get to my 86-year-old mom, but she is unreachable at this moment of trials and tr. It's okay, she has a lot of loving people around her too. She is protecting her dying son. She's refusing to let him go. It's what we do.
I am letting my brother go
I am celebrating his life and courage daily. And while he is still with us in the physical body, I can share these delights with him directly. When he is gone, I can continue to share these delights about him, I will just be less able to hear his reply or see his smile. But the love will continue. I am not at a loss for places for my love to go. I am celebrating my brother's transition from this painful life to something more serene.
What I am not doing is waiting for him to die. I am not reserving any love for his death. There is no unspent love in my heart at this awful time. I give every day. I give joy as I move around my day. I give love to my family in loving kindness and deeds of support. I give love to my girlfriend who fearlessly looks into the void of this transition with me. I am at peace. I am in joy and in love. And I am spending my love as fast as I can.
Perhaps I need to slow it down a bit. Be quiet. Listen.
This morning I am writing this beside my sleeping brother's hospital bed. His baby-like face so calm and relaxed. His anxiety and labored breathing at peace in his steady breath. I am here. My brother is here. We are alone together.
He is preparing his escape pod. I can see him disconnecting from parts of his life. A dear friend arrived yesterday from Seattle and my bother sent him away.
"I'm too tired to see you now. I didn't sleep last night."
And that's the truth of my brother's passage. He is tired. He is grateful to sleep when it comes. And his Hospice team is clear and committed to making his moment-to-moment life as pain-free and peaceful as it can be.
In some ways, my brother is in control of the escape pod. He can feel the pain and lean into it, gripping tightly to his own story, his own ego. Or he can go for comfort as well. He can relax into the soothing meds. He can sleep as often as his body allows. And he can see some of us on his schedule and within his available windows of energy.
I'm sure my brother's friend will come back today. I hope they are able to connect. It is the same way I hope that I can connect a few more times with my brother before he goes. I am savoring the keepsake moments. Even in his struggle with cancer, he has remained noble and kind. And, on some days, his sense of humor, his wicked smile, and his laugh, still rattle his frame. I will miss his laughter. I will miss his comedic FaceTime conversations where he plays with the camera angles and closeness to his face or eyes. He is a comedian.
He is not performing his standup show anymore. He's now resting backstage after his greatest show. We can celebrate, clap, and encourage his life. Even as he is leaving us, we can love and hold on to the parts of him that touched and will continue to touch, our hearts.
Love deeply. Live deeply. And when you lose someone, go on loving as deeply as you can.
In the case of my brother, I will go on loving him as he becomes a spirit. I will imagine him sitting and laughing with my sister, Sidney, who journeyed off-planet over 30 years ago.
Namasté,
John McElhenney – life coach austin texas
Facebook  | Instagram | Pinterest |  @wholeparent
Epilogue: a poem from my last breakup: the heart is an odd engine
Related posts:
quote source:  As the lights wink out – Jaime Anderson blog
image: grief, creative commons usage