I'm scared to tell you about my suicidal ideation. It's a part of my depression that I keep hidden from you.
[Note to new readers: I am not at risk. I am managing well. It is my hope that this post will provide some ideas and indicators of when someone you know, or yourself, need to seek professional help. Thank you for your concern.]
Why are middle-class white men committing suicide in such great numbers? What is it about our lives, as we cross into our late 50's and beyond, that brings so many of us to our knees and to the contemplation of ending our lives? How do seemingly successful and content men, like Anthony Bourdain, complete our suicide attempt and close the door on our once-precious lives?
I have been very close to becoming a suicide statistic myself. And this weekend, my high school running buddy, Adam Carter, left behind a brilliant 18-year-old son to become another number in a growing number. It's becoming an epidemic. We're killing ourselves in record numbers. And with Adam, I felt as if our chat a few weeks ago had helped. He thanked me for my strong words. He committed to going to an AA or Al-Anon meeting. He seemed like he was willing to do the work necessary to live again. He stopped returning my phone calls late last week.
This is about my story, however, and I won't focus too long on my friend or our celebrity examples of middle-aged white-guy suicide. Their stories have little bearing on my personal struggle with staying on the planet. I'm no entertainment rockstar, but I have an okay life. And several years ago I was standing on the last rung of a ladder with a belt around my neck. I was on the brink. Something pulled me back in. Some love of God, or the imaginings of how my death would hurt my daughter, kept me from stepping back.
Some love of life keeps us all from crashing our car into a tree. And apparently, the balance of joy-to-pain in many of our lives is weighted heavily towards the pain side. What was my pain in those moments as I was getting the ladder, testing the strength of the belt, imagining my girlfriend finding me hanging from the banister?
My financial life was a wreck
I felt trapped in a relationship that had become toxic
I had lost a job that seemed to offer all the promise of a new start
I did not want to face another hour in my skin
I could see no way to escape from the horror my life had become
Yes, hard moments, but how did I arrive at the conclusion that my death was the only way to shut down my own suffering? How did I forget that "things get better" eventually? How did I not have a friend I could call?
In these moments, when friends die, we all feel compelled to put up our messages on Facebook encouraging any sufferers to call us. I've seen 10 such messages in the last 5 days. And, I've heard the frustration in the tone of the allies offer, the exasperation that we silent sufferers didn't feel safe to reach out. In that final moment of life or death, there was nobody I felt safe about calling. I had no "phone a friend" numbers on my phone, in case of an emergency.
I've been getting more and more public about my mental health issues. I've been struggling less these days, and that's part of why I can discuss this so confidently. While I was in the throes of my own depression, I could not write about it. I could not ask for help, except for a very limited support team. But mostly, I suffered in my own self-pity and isolation. Mostly, I kept to myself and thought black thoughts and had black dreams and imagined the world a better place without me.
I was growing frustrated with my friend Adam. More frustrated about the disease of depression that was wrestling the life from him. I kept asking him, "What are you going to do for yourself?" He couldn't come up with an answer. He was waiting for a miracle to happen. He was hoping the new drug cocktail would have the desired effect. But he had been suffering in his own darkness for over a year. His shame was palpable.
"Please don't share any of this," he said, about his own dreadful story. And he proceeded to paint his tragic painting of loss and living under a black cloud. He'd been struggling for years. We were kind of like the depression brothers. As if I had a fellow sufferer who I could really talk to. But on that day, as we spoke for a long time, I became frustrated. I knew the isolation my friend was describing. And I knew my own truth about the disease: isolation = death.
"You've got to break the isolation, no matter what else you do," I pleaded. And I felt like I got through to him. He agreed to "try Al-Anon" in the "next couple of days."
"Tonight, AC. There's a meeting tonight in nearly every city in the US. There is no reason to wait. You are just prolonging your isolation and suffering."
There's no magic remedy for major depression. (Even U2 has written about it: A New Drug) There is no one thing that was going to save my friend and pop him back up out of the darkness. But when it happens, when you suddenly see daylight, hope, it's an amazing thing. Unfortunately, for so many people, those moments don't seem to come often enough.
I wanted to be that friend of hope for Adam. I wanted to be his "call me anytime, my friend." That's how we left it. "Really, AC, you can talk to me about it."
"I know, Mac, I feel like you're really there for me. I appreciate it. And thank you for listening to my rambling stories."
"You need to be heard, AC. I can see your struggles. I can identify with many of them. And I really do want to be a friend, should you ever reach a place of such darkness again."
I reached out a few more times, but AC never returned my call.
Something he was struggling with was so painful that the shame kept him from reaching out to anyone. Some dark angel had taken up residence in his mind and was poisoning every waking thought. Even the idea of his son's brilliance and beauty was not enough to turn him away from his suicide attempt.
Adam completed his attempt on Friday night. He reactivated his Facebook account at 5:56 pm,  to post a bit of scripture.

We're all on this journey alone. No matter how many loving family members or supportive friends are around us, it is our decision that keeps us walking past the open window. Adam left us when his hope for life was crushed by the disease of depression and the dark future he imagined for himself. When we're on that spiral downward it is hard to pull up and not lean into the crash.
We lost a friend, a father, and huge music fan this weekend. Keep passing your own open windows, seek help, and gather a quick dial list of people who you might actually call when you are putting your suicide plan together. Thinking about suicide is a human condition. Planning your suicide is an act of destruction.
If you have a plan call 911. And as the poster below says, "Don't wait for them to reach out. YOU reach out." (You can always reach me here.)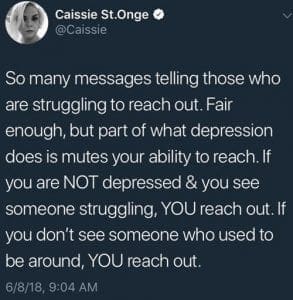 Always Love,
John McElhenney – life coach austin texas
Facebook  | Instagram | Pinterest |  @wholeparent
As a certified life coach, I've been helping men and women find fulfilling relationships. If you'd like to chat for 30-minutes about your dating/relationship challenges, I always give the first 30-session away for free. LEARN ABOUT COACHING WITH JOHN. There are no obligations to continue. But I get excited every time I talk to someone new. I can offer new perspectives and experiences from my post-divorce dating journey. Most of all, I can offer hope.
Read more about depression in the Dark Days section.
Depression Resources
Depression Books