(The first guest post from Sharona of P.M. Zee – voices from the other side of the Whole Parent equation.)
It was a little like looking through a microscope for the very first time; nothing… nothing…fuzzy…, and then, a shockingly sharp picture springing into focus.  On a Tuesday morning in April 2011, I suddenly understood that my husband of twenty-five years was in love with another woman, and that I would be getting divorced.
Divorced.  I had never even dreamed of such a thing.  This couldn't be happening…surely it was just a good old, common-as-dirt, stereotypical mid-life crisis?  Wouldn't a new motorcycle be less dangerous?
Our daughter was a few weeks away from an early high-school graduation, just approaching her seventeenth birthday.  She planned to take a gap year before college to compete seriously in horse shows.  We lived in a large-lot subdivision in suburbia with her three horses, and in addition to the heart-ache and general existential crisis that is divorce, I was panicky and uncertain about our immediate future.
I feared that the father of my children had completely lost his cotton-picking mind.  Would he also walk away from the business we had spent eighteen years building?  Would he move to Nashville and start playing music on the street corner, collecting tips in his open guitar case?  Does he realize that we are about to have two kids in college?  The man I knew was a faithful husband, a great father, and a hard worker.  He was our rock.
Who the hell was this guy???
I've heard divorce described as "another damned opportunity for growth", and that has certainly been my experience.  I'm the least mechanically minded person you'll ever meet (I'm not proud to say that I once had to be shown how to operate a gas can).  I knew nothing about the mysterious ways of lawnmowers, pool cleaners and septic drain fields.  Had a long marriage made me dumb, or just lazy?
One particularly discouraging Sunday morning I awoke to find that the fridge leak that I had been ignoring had ruined the beautiful walnut floor in the kitchen.  I stepped outside to feed dogs and witnessed a jet of water shooting out of the side of my house.  An ominous grinding/dry-sucking noise distracted me briefly, and drew me over to stare helplessly at the pool pump.  I wanted to throw myself into the grass and cry (but there was still the matter of Old Faithful erupting a few feet away).
I felt abandoned, and completely in over my head.  I wanted to call my husband and shriek at him about the unfairness of leaving me alone to deal with our kids, seven pets, and all of this frickin' broken crap.  I was afraid to call him too…afraid that he'd be sharing coffee and the Sunday papers (or worse) with his girl-friend on this beautiful morning.  I choked down my fear and pride and sent a text message to say that I was having problems with the house.
He immediately called, and I took a breath and started by thanking him for taking care of everything for so many years.  "I'm sorry that I took you for granted.  I didn't even know that you were doing it all".  He patiently talked me through the solutions.  The pool pump was burning up because I had let the water level drop below the skimmer (expensive lesson).  The geyser was our elderly water softener running amok, and he directed me to the cut-off valve.  The freezer had a clogged drain, and I kept the phone clued to my ear while I applied hot water and a pipe cleaner, (no fix for the floor except to cover with a rag rug).  Another damned opportunity for growth.
I learned a lot of new things that summer, including how to drive the tractor without dumping buckets of dung onto my own head (mostly).  It's like a life-sized Tonka toy, and I actually enjoyed tooling around on it, moving horse manure out to the giant compost pile.  When your world goes to crap, it's very good to have a tractor.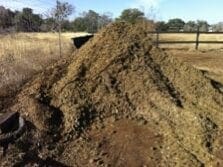 My fears about my ex-to-be's mental state were somewhat allayed by the fact that he was working harder than ever in our business, healing his relationship with our children, and willingly helping me out with the daunting task of keeping the "tiny farm" running.  He was starting to at least vaguely remind me of the man I thought I had married.
Unfortunately, as we were healing, our daughter was falling apart.  She spiraled down into a dark place of anxiety and depression.  She moved away to a dorm and was back at home after only a few days, over-whelmed and anxious.  She would seem to be gaining traction, only to have another emotional or medical setback.  Her dad and I communicated regularly and honestly, with her and about her.  She needed to know that we are still on her team.
The love of horses has fed my daughter's soul for over fifteen years.  She has a natural talent for riding, and her emotional bond with the horse creates a partnership which is truly moving to witness.  They dance together around the show-ring as if they were one graceful and beautiful beast.  I believe that, for her, riding is so much more than a hobby or sport; it is the thing that keeps her life worth living.
The downside is that horses are expensive to keep, and they live a long, long time.  They need feed and shoes and visits to the vet, even when they are older and no longer useful for competition.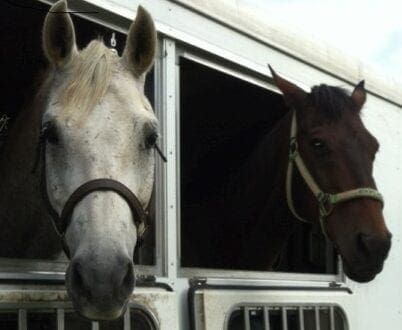 I'm grateful that my daughter's father supports her with me, not only financially, but with his presence.  He and I aren't lovers, not even really friends, but we are still parents. That's the most critical partnership we ever shared, and today we are rocking it! That's the guy I married, and the universe feels just a little more in order when I realize that (in this one important way) he hasn't changed at all.
I'm even more grateful for those "damned opportunities for growth".  I've learned that to insert a drill bit, you must turn the ring until it dilates, like a cervix.  (Why don't they just say that in the instructions?).  I've re-discovered romance, blues music and social dancing; also the fact that I really don't have much interest in television.  After a lifetime of conflict avoidance, my kids and I have found (to our surprise) that we could have a big dish-throwing fight, make up, and still love each other.  Our relationship is deeper, and more authentic than ever before. In the midst of our pain, we have gotten to know each other as real people (not only as our parent-child roles).  They like this honest version of Mom a hell of a lot better, and so do I!
Written by sharonazee  I am a native Texan, a writer, a mother of two young adults, and love slave to various other mammals (dogs, cats, horses). Trying figure out what it looks like to be suddenly single and with an empty nest. Visit PMZee! Rebooting after 50 for more of her story.