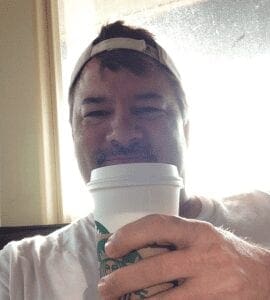 Dear Dad, pull up a chair and grab some coffee, we need to talk about this.
You're in the process of getting a divorce. I'm sorry. You're worried about your children, about your finances, and about how you're going to find your way back to some sense of happiness in the world without your family, without the family you used to know. I understand. And I'm here to tell you, divorce with kids is survivable. Better than that, your divorce has the potential to transform your life in a positive way. The divorce itself is a major transformation, but we need to get on with the business of living a healthy and productive life. And yes, it might be hard to think about now, but you can find new love, a better love, a more stable relationship.
Your marriage is over. Regardless of who pulled the trigger, there is no putting the genie back in the bottle once one parent has raised the specter of divorce. The only thing to do now is to get on with your life, as a single dad. That's what this book is about. Single Dads' Survival Guide is the roadmap for your recovery from divorce. It's a long and hard road, but with some clear steps along the way you can not just survive divorce, but thrive!
So… You're Getting a Divorce
Practical Matters – Shelter, Custody, Money, and Time with Your Kids
The Science of Sadness and the Hope of Happiness
How to Keep the CoParenting Relationship on the Positive Side
When Things Go South, Always Take the High Road
Rejoining with Your Children After Divorce
Picking Up the Relationship Pieces
Joy Redefined
The Positive Side of Divorce
You can find love again. You will reconnect with your kids, even as you are losing a huge chunk of time with them. The world you thought you understood, the world you thought you'd mapped out, is now different.
I always imagined, once my kids were born, that I would be tucking them in every night until they were off for college. That would've been my plan, had my then-wife not made other plans. Once those divorce plans were put into motion, everything I did to try to hold the marriage together, to change her, or to be a better man so she wouldn't want a divorce, all that activity was wasted energy. I went through a lot of pain and churn in my divorce, but I've come out of the other side with some lessons. I've tried to pack them into this short book, so that you can bypass some of my mistakes and, perhaps, get back to a happier life, quicker and with less drama than I did.
Either way, we're on this journey together. I've been divorced for 6 years, and I've been writing and processing it ever since my then-wife told me she'd seen an attorney. She failed to bring this up in couple's therapy. She failed to express how critically unhappy she was at the time, but it was a failure on both our parts. Divorce itself is not a failure. Divorce is a change. Divorce is a transition that you will get through. You will forever be divorced, even if you decide to get remarried. This is more pronounced if you have kids because you can never simply walk away from the offending party.
With kids at the center, you can learn to make every decision about them and not about your ex. You can take the high road 100% of the time. Take heart, the road ahead is okay. There are many wonderful discoveries ahead for you that you haven't imagined yet. First, we've got to get through some of the harder stuff.
I am glad you have decided to check out this book. I hope that my journey to recovery will be illuminating. I am very happy about my future as a single dad, and I can bring some of this energy and positive action into your life.
Divorce recovery is a process. There are steps forward and steps backward. We will examine both the good and hard things about being a single dad. And we will remain focused on your kids and their happiness. Their happiness is even more important than your own. And when you understand that, you begin to understand that the divorce was a good thing. That as you and your wife were unhappy, you were also raising your kids in an unhappy household.
I used to blame my ex-wife for the divorce. Now I thank her. She had the courage to pull the pin on the divorce grenade long before I even knew how unhappy we were. While I might have preferred a more gentle trajectory she got the job done. She began the process that blew us apart over the summer of 2010. And here in the Fall of 2016, I can promise you I am happier, my kids are happier, and my future is bright again.
JMac 9-25-16