It's been a year since I started this blog. 80 posts later, one firing, and a ton of growth, I am very happy to have set out on this journey. Today I'd like to celebrate the wins and learnings that have transpired over this first year of publishing. Let's look at how we began, back on Sept. 21, 2013. [see the Full Index of all posts]

Here is a gallery of all the cover images once I defined the brand style. I've covered a lot of territory. Not all of it easy, but hopefully in keeping with my 100% positive mission statement.
[Best_Wordpress_Gallery id="3″ gal_title="posts"]
My goal has always been to improve my understanding of co-parenting, and how to keep coming back to the issues with a positive approach. It's kid's first. Nothing else matters.
As the divorce issues and parenting issues have gotten resolved the next progression along the path of wholeness is returning to the idea of being in a relationship again. And while this blog did not start out with a "dating" agenda, I believe that "wholeness" will come from finding a long-term romantic relationship again. Along that path I have journeyed back into the dating pool, and here I have attempted to capture some of my self-observations and lessons. Again, these are my observations, your milage may vary.
It's been a great run so far, my traffic today averages 300 – 500 visitors a day, thanks to my affiliation with The Huffington Post and The Good Men Project. And I've even been made a contributing editor of the GMP.

And the monthly growth has been pretty astounding.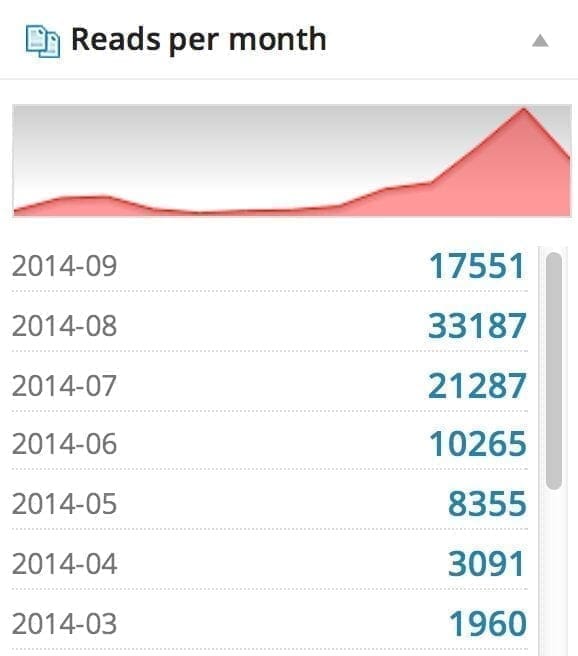 So here's to the next year. Thank you for joining me on this journey, I hope you stay tuned.
Click here to see the Full Index of all posts.
Always Love,
John McElhenney
@wholeparent
related posts:
image: team dad, john mcelhenney, cc 2010