This was the title and subhead of the post from TheBlkTux.com (link intentionally not provided)
Would you Swipe Left or Right? An Analysis of Dating App Bios in the U.S.
We reviewed the bios of 5,000 dating app users across the 25 largest cities in the U.S. Why you ask? Innate curiosity, and because we like to suffer.
Right from the start, their self-deprecating humor (crossed out above) is misguided. And as I began to look into the analysis, I got the feeling that this was written by someone not very interested in getting a date or finding a relationship. But let's start at the top.
The first chart (above) proved promising and gave me hope for the data analysis that was offered in the title.
This information is helpful if you are trying to align your bio with those of your target demographic. Men are different when it comes to dating profiles, and this chart gives us some clues about how to tune into our future partner's preferences. At least, their preferences as expressed in their dating bios. (We will come to see, these bios can contain a lot of smoke and mirrors.)
As a man, interested in a woman, the things that seemed interesting were all the things that scored over 10% about women's bios.
Pets
Emojis (40% of women, 34% of men)
Instagram
Profanity
No home runs here, but I could add a few emojis to my bio if I wanted to brighten up my prospects. And after this chart the entire article falls off a cliff. Switching the analysis criteria from Women v. Men to popular "in most cites." Wait, what? I don't care what the trends are in San Francisco, I'm in Austin, Texas. Is this BlkTux a travel company? Would you look at these charts and thing, damn, I need to move to El Paso. Um… No.
While the survey looked like it was going to have some useful information, it ended up being more of a sorting exercise for someone's term paper, rather than a helpful guide to fine-tuning your dating bio.
Okay, so on average, 40% of women use emojis in their dating profile. And this chart is helpful, how, exactly?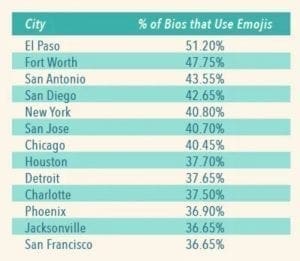 Okay, so it's time to look into this website and understand a bit more about their motive.

Ah, Nordstrom is doing an expensive suit rental business and they've launched a lifestyle brand called BlkTux. I guess this explains why the content seems like some "assigned" article rather than a detailed analysis of 5,000 dating profiles.
I'd like to do a deep dive into dating bios for you, but I am no longer dating, and I think I've already mastered *my* formula for putting myself and my values forward, both in real life and online. Let's recap what we've learned of the last 6+ years of online dating.
Writing your own bio is an exercise in ambition, honesty, and self-awareness.
Writing the description of your ideal mate is also illuminating in different ways.
Sorting through the hundreds of "available women" it becomes obvious that a ton of online dating profiles are fakes (probably created and operated by the dating sites themselves to get you to subscribe to the higher-priced services.
Online dating apps are in the business of making money (a lot of money) and less focused on getting you lined up with your next date
Online dating is a full-contact participation sport: if you're just browsing and not messaging and saying "hello, I notice you like running" then you are just waisting time. Online dating is a form of entertainment for many people.
When you hide all the "nopes" and message all the "yeps" you're going to be left with a small handful of real potential partners. Take care with the "winners" and don't jump too soon, or offer too much information, or seem too eager. Take it easy.
It's best if you talk to any potential first date on the phone before meeting in person. You can put someone into the "nope" category pretty quickly when you hear them chewing gum on the other end of the phone.
First dates, "hello dates," are for reality checking your fantasies and assumptions about someone. And for seeing if their photos really are recent and reflect what the actual person looks like. (Photos can be quite misleading. More than once, I met someone who was nothing like their photos.)
If the chemistry is on and flowing both ways, you will both be asking "What's next." If it's not mutual, move on. You will not be able to build a fire without initial sparks. (But don't overlook the slow-burn. If you're "sort of" interested, perhaps a second date is in order.)
When you do have an actual match, and you've agreed to meet for a 2nd date, it's time to learn my first golden rule of online dating: YOU CAN ONLY KISS ONE PERSON AT A TIME.
That's it. Those are my biggest tips for online dating. The survey noted above will probably not give you usable advice, but I was hopeful for insights when the title turned up in my Facebook feed. Oh well. You'll find a ton of online dating advice in the Dating Again section. And you can get an even deeper picture of my first three years of online dating, in my book Single Dad Seeks.
Always Love,
John McElhenney – life coach austin texas
Facebook | Instagram | Pinterest |  @wholeparent
More dating advice from The Whole Parent:
Look Inside Single Dad Seeks on Amazon