Thank you for subscribing to Love Languages of The Whole Parent.
Here are two gifts for you.
A free 30-minute zoom session: BOOK NOW >>  https://calendly.com/jmacofearth 
I'm also giving you the first four chapters of my new book on dating, Single Dad Seeks as a PDF.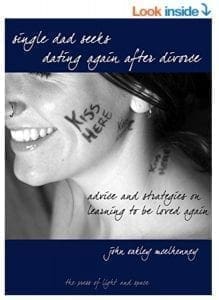 Single-Dad-Seeks-Dating-Again-After-Divorce-first 4
If you'd like the complete book, let me know. Or you can get it immediately on Amazon.
Namasté,
John McElhenney – life coach austin texas
Facebook  | Instagram | Pinterest |  @wholeparent
How I Can Help
I am a relationship coach and a dating coach. I coach women in 1 x 1 zoom or facetime calls. I work in monthly blocks (4 sessions). We establish a relationship. I become your wingman in navigating and sorting through the bullshit of dating and relationships. If you are here, you've probably already read some of my opinions. If we're a fit, we will both know on our first call.
back to The Positive Divorce
Further Reading: