FROM EARLIER DATING ADVENTURES: On a date with a younger woman, and she's talking and I can't stop looking at her neck. I don't think I'm into dating women more than 5 or 6 years younger than me. I could be convinced otherwise, but…
The OKC woman and I had lunch yesterday and I was watching her neck. I had a longing as if I were a vampire watching the pulsing of her life. I could imagine the same pulsing when we were making love, this is the throat of orgiastic pleasure. She's the one who sent me this text the day after we met for dinner.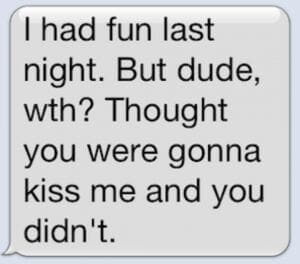 I want to stop talking at some point. I want to be with someone and not have to talk about it. All the time. There is some talking that needs to happen, some goals and rules that need to be established. But if there's no desire to kiss, it might be that there is very little kissing desire inside the person.
Case in point. I was with the OTHER woman of potential on Friday, during a window when both kids were away at friend's houses, and we just hung out. But she was warm and touchable. She was close. She had cuddly all over her. Still no need to push in for kissing with her, but there was an implied closeness already. There was already touching.
If there's no touching, it's because TOUCH MIGHT NOT BE THEIR LOVE LANGUAGE, DUMMY.
Oh.
And the fact that woman with potential number one really needs me to help her with a lot of techie stuff… Well, it's starting to make me a bit tired. IF it weren't someone I already knew, and if she hadn't been making the connection effort (she is) then she'd be a goner.
As it is, I'm already cooling a bit on her prospects. She REALLY reminds me of my ex. Things need to be just right, or fit some perfect form, or comply to her schedule and will… Nope. Not gonna do that again.
So I'm not cutting her off. But I'm beginning to expand my viewpoint again. And what if this new OKC woman was a kisser and then nothing? Well, that's okay. I'm chilling a little on the only 100% or it's a waste of time.
The OKC woman is not an artist. She's very much into her gym and running. And she's cute as the devil and really easy to be with. So what if she's just a cute and easy, nice girl? Do they HAVE to be writers? Do they HAVE to share cerebral gymnastics or linguistic karate?
I'm fascinated with the shape and vibrancy of her neck while she's talking. We're exchanging stories about exes and parents. And when we get the check she asks if she can pay. She's made it quite clear that she makes good money and is happily supporting herself and her two dogs. And all I can think about is how it would feel to make her neck strain with excitement. I'm hungry, but we've just eaten. It's a good feeling.
And she's cute as a button. Cute. Fresh. Easy. And she's asking me to kiss her. Um. Except in broad daylight. "It's gonna have to be a night date," she said, half-seriously. She had also let me know after the txt above that we would NOT be kissing in a restaurant or any other type of PDA. She simply wasn't into it. Okay, that's fine. But she asked me, "But dude, wth? Thought you were gonna kiss me but you didn't."
She moved things forward nicely, except… Well, I mean, if I want a relationship with her. Turns out, I didn't.
Namasté,
John McElhenney – life coach austin texas
Facebook  | Instagram | Pinterest |  @wholeparent
Go back to Dating After Divorce on The Whole Parent
Here are a few of my books on Amazon:
Available on Amazon
image: neck kiss, creative commons usage