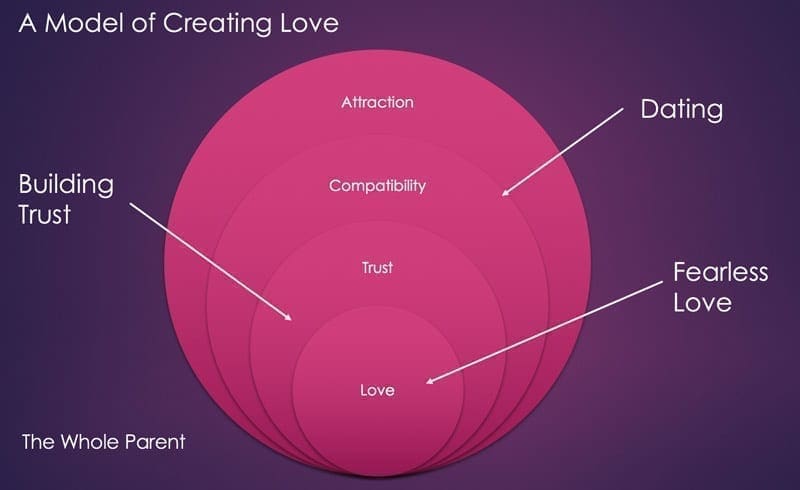 Love is an action. Yes, it might also be a feeling, but ultimately your "love" is determined by your actions. Either you are continuously moving towards that special someone, or you are not. And as relationships go, it's the action of love that will sustain relationships. The glow, the chemistry, the sexual connectivity all fade in comparison to simple everyday actions.
I've been wondering a lot about why I want to be in love so much. And what is it about a woman that makes me fall in love with her. What I'm beginning to believe is that the "falling in love part" is 100% up to me. Completely created by my imagination of where I think we might go together, what little things about her that fascinate me, and how I might go on trying to discover more about her over our lifetimes together. That's what love means to me, the kind of love I'm talking about and seeking. The love that says I will be with you always.
In the initial stages of courtship the things that matter most to us are attractiveness and what we refer to as chemistry. I think it's the little extra thing we see in someone that sets our relationship antenae buzzing with the word, "YES." This could be the one. I could fall in love with this person. I can see the potential here. When the chemistry is not there, it's an easy "no" that comes to my mind. It's quick, it's painless, and in many ways it is not personal. It's just a preference. Or some intangible connection with our historical memory of relationships and love. We see something in that someone who lights us up. Chemistry. It's either there or it's not. It cannot be manufactured or developed over time. Love, on the other hand, takes a long time to develop.
As we begin getting to know someone we move beyond the their attractiveness and chemistry to something more akin to compatibility. Do they like to do some of the things we like to do? Do they snore? Are they friendly to everyone we come in contact with? Do they show compassion to the less fortunate? And of course there are the more relationship-related things like, do they kiss well? Do they brush their teeth enough? Can I sleep beside them and actually sleep or do they make me restless? Any misses in these areas can spell a quick end to a relationship. But as these things come into sync, as people make active adjustments to join with each other, the move towards a deeper trust, a bond that moves closer to love, becomes apparent as a goal.
If you want to be with someone and they feel the same way, then you can begin to actively seek time and activities to do together. This is the active part of early courtship. In long-term relationships some of this desire gets forgotten or left out. But this is precisely when love becomes an action. You have to work at wanting to be with your partner. You have to continually strive to understand ever more about them and their dreams. And from these images and ideas you can begin to piece together a map for how your two lives could come together for the long haul.
Trust is the deepest level of the relationship circle and it cannot be underestimated. As you build your relationship everything goes towards gaining trust. Even the small misses can begin to build distrust or resentment. This is bad news for the relationship and these kind of issues need to be actively addressed as a form of loving the other person. It is in the active participation of the relationship that you show your commitment. And it is in the depth and quality of the trust that you being to see this other person as THE ONE.
Trust is also a fragile thing. Once broken it may be hard to rebuild or reestablish trust in a relationship.
Moving towards the center of trust we come towards the ultimate goal. Fearless love. A relationship that continues to cherish the process and build rapport is a relationship that can stand the test of time.
Of course, things change. The trust can be fractured. One partner can fall into a deep depression, or be jobless for a long period of time, challenging all that the love relationship holds sacred. And these are the times of challenge. These are the times when the actions of the other person are either perceived as being towards or away from the love relationship. A committed partner can find their way through most challenges. But when one partner opts out, there is no future action that can save a dying relationship. When one partner says, "I'm out," what prevents them from reaching that breaking point again? Once the cat's out of the bag, how can you stop thinking about the cat?
Love is a tricky business. And love is built upon actions more than feelings or words.
Take care. If you want to talk to someone about love and single parenting, let me know.
Always Love,
John McElhenney
@wholeparent