The amazing people at DatingAdvice.com started courting me in October of 2017. I was having a tough holiday and I did not respond until the editor in chief connected with me on LinkedIn. She wanted to do an interview and profile of The Whole Parent.
A lot has changed since this article came out. Too much to fill in here, but over time you will learn how February 2018 was one of the most transformative months of my 50+ years on the planet. The transitions are still in motion, my life is still approaching hyperspeed of some sort, and many of my major life goals are revealing themselves to have answers that I did not expect and was not actively looking for. Yet, here we are.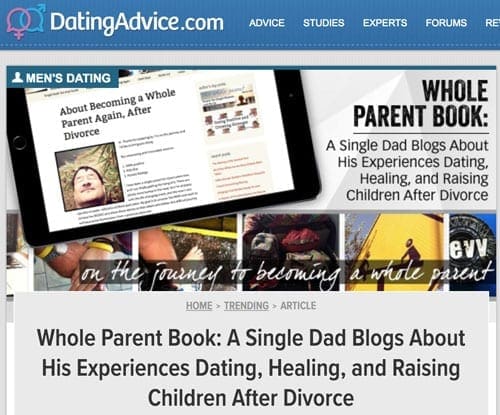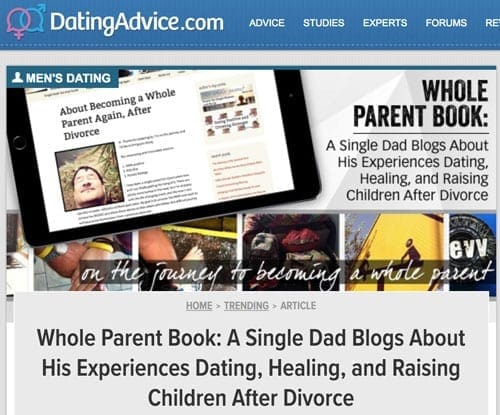 Today the world changes for The Whole Parent, aka John McElhenney. As my life has been moving in recent years, my passion for helping and guiding single parents through the hardships of divorce, depression, recovery, addiction, and ultimately renewed belief in a future relationship, I am announcing today that my services as a single parenting coach/wingman/confidant/cheerleader are now official and I've got slots open.
What this means to you as a reader of The Whole Parent.
My rate to you is 50% what it will be in April when the public announcement is made.
After your first session with me (skype/facetime/in-person Austin, Texas) you will get a free copy of my new book, What a Single Dad Seeks, as well as lifetime and unlimited access to the upcoming community that is being built behind the Single Dad Seeks Community Website.
Your first 30-minute session is free. Let's just talk about your goals, what you're looking for in a coach. What kind of help you need. If I'm not the best fit for you, I have a network of coaches I consult with.
I'll have the honor of talking to you about your life, your dreams. And you can ask me about my story, what I've written, what my experience as a single parent in the online dating world has been.
I'll email you my ebook, What Single Dads Want You To Know About Online Dating.
That's the entire offer. First call, 30-minutes, is free. Let's just connect. I'll send you an electronic copy of the book and ebook just for connecting with me online. There's no payment, no commitment. That's as honest as I can get about what I do and how I can help you get back to your authentic strength and happiness.
I do Skype, Zoom, or FaceTime sessions for on a sliding scale… That's it. Easy. Tell me what you want to pay in the opening email and describe your situation. I can help.
GET A FREE 30-MINUTE CALL and let's talk about it.

This is why I do it. I'm a dad to this wonderful 16 yo girl. She makes my life worth living every day. My 18 yo son, not pictured, is also a top priority in my parenting, earning, and dating life.