When you last heard from us we were stranded in a survival hut on the surface of the moon. Everything in our world had been turned upside-down and then shaken out for the final effect. We were safe. We had heat, food, and beds to sleep in, but the environment was fairly hostile to exploration, growth, and livelihood. That we had survived with our sense of humor, as a group, was one of the great victories.
The map ahead needed to be completely reimagined and then redrawn. The objective was still clear, if not quite a bit further away now that all of our gear had been wrongfully evacuated into deep space.
Our only option for recovery back to the good life on Earth was fuel production. Without cash flow there would be no fuel for the return journey. That part of the plan was never in doubt.
I had been seeking high-level employment all Summer and we were now heading towards Winter. And while I'd gotten plenty of interviews, the last conversation, if there was any conversation, continued to be "they've hired someone internally." Over and over. But there was no energy or space for hopelessness. As the captain I maintained a proud face, a calm and joyful demeanor, while I continued to probe, mine, ask, and apply for new opportunities.
And then in late September, I had a big win. A company that had been vetting me for 7 weeks finally set up the penultimate interview: a meeting with the CEO. Within three days I had the offer I'd been waiting for. The small tech company, young and aggressive plans, and a hunger to develop their website and e-commerce program. I started the next Monday, and as a crew, we reveled in the idea of our potential escape.
The morning of my second day, however, the same CEO asked me to come with him to one of the conference rooms downstairs. It was 9 am. As he sat there, and the new HR woman, who had started the day before just like me, said they were terminating my employment. They did not have to give me a reason. 
I sat there, stunned. I looked at the CEO for clues to what had happened. He did not meet my eyes. I asked, "What is this about?"
The young HR woman said, "It's just not a good fit." 
I pressed. "Is it about my writing, online?"
"There are some things you have written," she said, checking with the CEO for approval. "That are not in keeping with the brand of this company."
"My 100% positive single parenting writing, you mean? For the Huffington Post?" I could see I had gotten them both a little nervous, though the CEO still refused to answer my gaze. 
"We can't go into specifics, I'm sorry." She said. The CEO said nothing and looked at his manicured fingernails.
"Well, that's total bullshit. Everything I write is positive and about doing the best I can as a single parent. That's the reason I publish it. Being picked up by the Huffington Post was a victory, not a liability. That's what I do, I create content and stories that reach people. I was assuming that's why you hired me."
The termination was over. They hadn't even had time to write up a termination agreement for me to sign. The HR woman said the CEO would go with me to gather my things and get the electronic key card back.
In silence we walked back to my desk together. Me and the man who had 24-hours earlier welcomed me into his "culture first" company, gung-ho and ready to go.
Somehow. Even though I was being hired as a digital marketing manager, they had failed to Google me. The HR team didn't Google me. the interim CMO didn't Google me. None of the consultants who were asked to interview me, Googled me. It's right there at the top, it's the top news site on the web. Huffington F-in Post with my smiling writer's profile picture. It's even at the top of my LinkedIn profile, though I don't go into the subject matter on that site.
I handed the key card to the CEO. I really wanted to say something. I wanted to ask him, "What's so scary that he couldn't look at me or talk to me." Picked up my empty computer bag and looked right at him. I did not offer a handshake or a word of acknowledgment. As I walked out of the hip and cool office, with the not-so-hip and cool hipster-looking CEO with his fancy suit and flair for purple pocket squares, I knew that I had dodged a very serious bullet.
I was sad for about 30 minutes as I drove across town. I needed iPhone charging cables for the entire crew, so I was headed to a store to get them. I had been excited by everything I could understand about the company. My first day had been grueling, but I was prepared to dig in and create some big wins for this small company. But the small-minded CEO would've been a problem. I am lucky. If I had gotten our crew halfway back to earth when the coup de grace happened, it would've proved disastrous for all of us.
No, as I returned to home base, I had a sense of relief. The fit was wrong. I don't know what triggered the execution, but I'm glad they didn't give me life in prison or worse, death.
I had made the exuberant mistake of updating my LinkedIn profiles and telling most of my friends about my new gig. That morning, as I returned to the survival bunker and told my horrified mother, it was a bit of a low point. But it started an even deeper quest.
Again, this was a moment of great despair for me, but I was not about to show it or lose the momentum I had gained from my victory. Even if that win didn't pan out, the gift was more one of hopefulness and resilience in spite of such a traumatic blow to my career and ego. But from that moment on, I was able to see an even deeper value in what I was writing. Right there, this writing was more important than a closeted, man of fear's, knee-jerk reaction.
I suppose if I had been less certain of the value and purpose of my "divorced dad" writing I would've had a real crisis on my hands. But instead, the little mind of this company's CEO emboldened me to my purpose. My leadership and confidence actually grew a bit stronger, as I understood how important this writing has been to me. I had to look deep into my own soul about the purpose of what I was doing here, and I came back with a resounding answer: this work and exploration of being the best single parent I can be, is one of my life's purpose. What I had gained through the course of sharing and digging deeper into my own understanding and failures was a super-positive understanding of what parts were important in my life and what parts were critical but less important.
Even as my mom was freaking out, at me, at the Huffington Post, and my former employer, I was smiling inside. I did not miss stride or fall into the pits of despair. I simply shared with her my renewed understanding.
After mere survival, being a better parent and a strong positive force in my kids' lives was the most important task in my life. Finding the positive side to every aspect of being a single parent is not always easy, but even at the start of this blog, I recognized the changes that began taking place. With each conflict or hardship, I had an opportunity. If I wanted to put the story in the WHOLE PARENT I had to find the good aspects of the lesson, or work to create the good result from the hard left change in direction.
So I rolled right along through October and into the beginning of November with the same attitude. We would survive even this direct hit. In fact, we would thrive and make better choices as a result of this near disaster. I'm sure the fallout inside the company that spent a lot of time and money to hire and onboard me was more significant than the disruption in my life.
In early November a client came out of the blue, based on a recommendation from one of the same references and former colleagues who had gotten me the one-day job. And within a few days, I was contracted to provide 100 hours of consulting in November. This was awesome. I joked that this meant my kids would get Christmas presents. Of course, what it really meant was, I would be able to provide 100% of the money for those gifts rather than having to ask for help.
And the work took off, I worked well from the remote base on the moon, and they asked if they could have the same deal for December. And "Christmas was saved" indeed.
I love the work I do. I am good at it partially because I believe in it and I love it. Writing this blog is the same mechanical function, but I'm pointed at the issues of MY life. In my work, I point my craft at the issues of a business. With the contract client, I got an opportunity to work on 5 different clients in the course of 2 months. I wrote their annual plans for 2015. I managed 100% of their social marketing and advertising. And we had some wins and some losses. And I renewed my understanding of my value and joy at doing the work. Oh, and they paid me pretty well. Not well enough to reach preparedness for another Earth mission, but I got the jolt I needed to kick things one level higher in my search for a full-time job.
On Dec. 14 I started my new gig with a company very similar in mission and size to the previous, now dead-to-me company. And on the first three days of my work, I used my early morning time (6 – 9 am) to complete up the monthly wrap-up reports for the contract client. For those three days, I was making the most money I'd ever made in my life. And the cool thing about net-30 payment… I'll get a care package of cash from them sometime in February, even as I'm now gainfully employed by a company with a lot more integrity and true transparency when they say "culture first."
On my first day, I was laughing with my HR manager.
"Do you want to hear a funny story?"
She had me retell the tragedy of the one-day job later that afternoon at lunch. Oh, yeah, this company brings in lunch every day. And sitting around that table, telling 15 people I'd just met about how I hoped to make it past 9 am on the next day, was a liberating experience. I had told the HR manager the story because I was confident that my boss had seen (since we talked about it in my first interview) my Huffington Post writing. (This writing.)
I suppose I could've been more discrete or cautious about outing myself. But at this point I was dauntless. And the HR manager, as well as the table full of new colleagues laughed at my story. I now tell it with some dramatic pauses and well-timed reveals.
"Because I write a blog about being a 100% positive single parent."
That one of the things I do.
Stay tuned for the next episode… When we'll learn:
Did our hero and his crew reach Earth?
Did the new fuel supply experience a catastrophic failure?
Would the team find an available ship and be able to stay together for the journey home?
Of course, I still have to live what's next.  The saga will continue…
Namasté,
John McElhenney – life coach austin texas
Facebook  | Instagram | Pinterest |  @wholeparent
Have you read the entire series? Click below for more exciting episodes.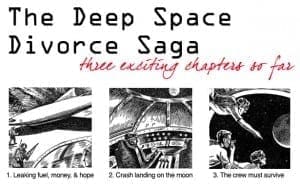 Here are a few of my books on Amazon:
image: 1947 Rocketship Galileo 2, tom voter, creative commons usage