I love our modern-day gurus as much as anyone. Well, okay, maybe not as much as they love themselves. Oh, and maybe not as much as their marketing would like me to love them. They both clearly have much to teach us. Please forgive my snarkiness.
I am questioning the ongoing industrial business of enlightenment.
Once we've learned The Power of Now and The 7 Spiritual Laws of Success do we need a webinar, online course, or ongoing teaching after teaching? We may need a refresher from time to time. But these guys (along with Oprah, Brené Brown, Mel Robbins, Tony Robbins) have created industries around preaching enlightening messages. To me, these messages get a bit repetitive. And if you GET IT ONCE, you may not need to do guided meditations at $45 a course, with Oprah and Deepak. Unless you want to. That's okay too. I'm not judging you or them. I am questioning the ongoing industrial business of enlightenment.
Let's look at two of my favorite enlightened leaders.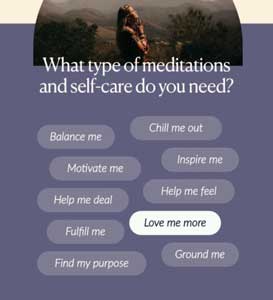 The 7 Spiritual Laws according to Depak Chopra
Law of Pure Potentiality: Take time to just BE.
Law of Giving: Give and receive both tangible and intangible gifts.
Law of Karma: Understand the power that sharing with others can have on your life.
Law of Least Effort: Accept people and situations as they occur.
Law of Intention and Desire: Trust that there is a reason behind things not going your way.
Law of Detachment: Embrace uncertainty and trust the process.
Law of Dharma: Recognize your unique talents.
Let me use this lens to examine my life at this moment: struggling between the goals of serenity vs. ambition. (First off, while I used to believe I had to choose between serenity and ambition, I have discovered a different truth for me and my creative process. More on that in the thrilling conclusion of this self-exploration.)
Take the Time to Just Be
Law of Pure Potentiality
Ah, the pause in my life is serving me well. Even as I am crossing into new large life experiences, I can mind the pause and my contraindicated habit of rushing towards some goal that may or may not be serving me. Let me, at this moment acknowledge four major shifts in my life.
Full-time employment and the pros and cons
A new house (a full container for my life, 11-years after my divorce took my home and my financial ability to support both my ex-wife's house and one of my own. (SEE: Fall of the House of Dad)
My mom passed away in March, on the first day of a new big tech job that had 2X the expectations and 2X the money of any role I've ever assumed. (I took bereavement leave and realized I was not willing to sell that much of my soul for a paycheck.)
Money is no longer a struggle in my life and for the foreseeable future.
So, with all this in motion, why am I still trying to push the river?

Why do I need to force a relationship to happen right now?

Why do I need to make life-altering decisions, even as the life-altering is UP in a big way?
The goal, the secret, the path for me is one of ease and pause. There is no hurry to establish my lifetime partnership, today, or tomorrow. I want it. But today, I am aware that I am forcing it a bit. If I take the proverbial pause, I may find my own serenity is more important at this moment than finding someone to share my life with. Don't force the river. Allow life and love to surround me and relax in the moment of being with love.
Law of Giving
The love you make, well, that's all there is. – Rhett Miller, "I Want to Live"
Law of Karma
Sharing and giving to others had a positive effect on our lives. The opposite is true as well. As we turn towards selfishness and taking energy from others, we will find that our energy and prosperity diminishes. From every action, no matter how small, there is an opposite and equal reaction. This is physics.
Law of Least Effort
Just accept the reality of now, and the reality of those around you. Let go of expectations and outcomes that you are hoping for. Let go. And let everyone be who they are. Make your choices based on who people ARE NOW, not who you want them to be. It becomes more effortless when we surround ourselves with positive friends and positive affirmations. A life of ease is just ahead when you can ease into letting everything and everyone BE where they are. You are where you are. Relax. Release. Breathe.
Law of Intention and Desire
My favorite version of this dilemma is about my own creative quest: Ambition or Contentment. Which do you choose? This is a Zen koan I was given accidentally by a fan while playing a music tour in Los Angles over 20 years ago. What are your thoughts about this one? If you set your intention in the proper direction, and your desires are followed by "next right action" thinking, what can stop you? Right?
Law of Detachment
Letting go. It's the key to a happy existence. Non-attachment. Want: yes. Work towards what you want: yes. Learn to let go of the outcome and enjoy the journey and the process: yes. I think of the Frozen song, "Let It Go" all the time. (Are you singing it in your head now? This is a great mantra. Yes, the song. "Let it go, let it go…"
Law of Dharma
Let's see. Dharma is different than karma… Hmm. Let me process this for a second.
The implication of dharma is that there is a right or true way for each person to carry out their life in order to serve both themselves and others. Although it can be a challenging concept to grasp since it has no single-word English translation, a close adaptation is "right way of living". – Yogapedia
Yes, you have your strengths and weaknesses. Learn to live within those guardrails. Work on things you can change. (Mental practice, physical practice, spiritual practice) Let go of things you cannot. (Actions of others, regrets from the past, things not working out as you would like them to.)
And in the end, Let Go of what you want and pay attention to what you have, IN THIS VERY MOMENT.

link to Tolle free Practice of Presence Video Series
The Power of Presence 2021 Program from Tolle
The Power of Presence online course is an eight-week training for awakening consciousness and living in the Now. Here's what is going to be covered:
Find freedom from compulsive mental activity
Work with emotions and reactivity
Build a foundation for fruitful action and genuine creativity
Transcend your inner narrative
There is no arguing, these are all things we'd like to transcend. And the "NOW" message is a good way to get out of our heads, out of our compulsive thinking, out of our reactive moods. All good. And if need an introduction to Tolle's shtick, this might be a great opportunity to get into the "now" with him.
The "In this moment" Mantra ™
In this moment there is no danger.
In this moment I am safe.
In this moment things are as they should be.
In this moment I am happy and free.
We get too caught up in our thoughts, our overthinking, our regrets, our to-do lists, our work tasks. All of it. It is not easy to stop and be present. To stop and close your eyes and breathe for 2 minutes. Just Be. Just breathe. Understand that this moment, this present moment, is what our lives are made of. All this past regret/future fear stuff is CHURN. We want our minds and the thoughts in them to be like still lakes at dawn.
Pause right now. Recognize that in this moment (even your eyes reading these words) you are loved, you are safe, and the power of action is up to you.
You can slow and stop your thoughts anytime you like with a 2-minute pause.
The 2-Minute Pause Practice ™
Set a timer on your phone for 2-minutes.
Get in a comfortable position (sitting, standing, walking, laying down).
Breathe in: the peace and calm of the universe (god's love, your higher power, your spirit)
Pause the breath.
Release the thoughts swirling around in your head
Pause the breath.
Return to 3 and repeat until the timer goes off
It is not hard. And the pauses you can place in your daily life will transform things for you. I promise. This is the daily practice of mindfulness. I didn't come up with it. But hey, neither did Chopra or Tolle. We can all learn a bit more patience, mindfulness, and presence. The power of NOW comes from recognizing the bliss that is available at this very moment.
Give yourself as many 2-minute pauses
throughout the day, as often as you can.
Breathe with me. Be with me. Be here now.
Namasté,
John McElhenney – life coach austin texas
Facebook  | Instagram | Pinterest |  @wholeparent
BTW: the ™ marks are sarcastic
How I Can Help
I am a relationship coach and a dating coach. I coach women in 1 x 1 zoom or facetime calls. I work in monthly blocks (4 sessions). We establish a relationship. I become your wingman in navigating and sorting through the bullshit of dating and relationships. If you are here, you've probably already read some of my opinions. If we're a fit, we will both know on our first call. For SEPT-OCT I'm offering a 1 HR introductory call rather than my usual 30-minutes.
I am also launching two coaching groups about dating and relationships in the coming weeks. One for men and one for women, facilitated with a dear friend and wellness/aging coach. Both groups will be limited to 8 participants. So join the FB groups and watch for the opening announcements. THANK YOU.
Related posts:
References:
+++