Single Dad Seeks: Honesty, clarity, and some demonstrated amount of joy.
Giving up on a loving relationship is one of the hardest things you might do in life. Calling it quits hurts and goes on hurting for weeks or months. And somehow, when you come out of it, the desire to be back in a relationship comes back as well. It's sort of a magic process, this human recovery story. Find love, explore life together, break up, and we're back to looking for love again. The human spirit is very optimistic when it comes to relationships.
And then there's online dating. For most of us, a bit to busy to be sitting at a bar trying to attract someone, the online scene is the next best chance we have of finding companionship and potentially love. But it's a long haul. You don't want just anyone. You want the ONE. The NEXT. The lover who will join you for the twilight years. And that adventure begins with a single spark. And that spark is oh so hard to find.
Viewing hundreds of profiles can get pretty depressing. There are so many NOPES out there you might begin to wonder if there's ANYBODY out there for you. Even with huge dating sites like Match.com and OkCupid you can exhaust the dating pool, browsing for maybes pretty quickly. And if you're a guy, the next step is waiting patiently, hoping that someone responds to one of your outreach emails. And you wait. And you hope. And you wait some more.
Then someone cute and seemingly intelligent pings you back. "OH BOY," your brain and heart say in unison. And we're off to the races. And if you're anything like me your imagination takes over and you begin to fantasize all kinds of date ideas, and conversations, and long walks on the beach. And the real trick is hinting at these flights of fantasy without overwhelming the other person or seeming too desperate. Just last week I overplayed my hand with the first woman who gave me hope. And in a heartbeat she texted back, "I think I'll pass." And this was after a very cool and promising first coffee date. But just like in real life, you have to drop the fantasy and move on. And we're back to the waiting.
What's different for me this time around is I have a much better idea of my ideal mate. I just had a 2.5-year relationship with a very near miss. "So close!" I just had a woman give me a taste of the potential. I caught a glimpse of that "down the road" feeling. I was looking forward to growing old with this woman. And I come back to the game with even more energy for presenting myself with a renewed vigor.
I learned these things about myself in relationships.
I need someone who is athletic like me. (so we can do it together)
I'm not much of a drinker, and that same ideal is of critical importance for me.
The attraction both physically, spiritually, and emotionally has to be very strong.
We need to be great at doing the mundane tasks of living life together.
We have to both be working on ourselves, both in the relationship and in building a relationship with ourselves.
They need to be self-aware and emotionally intelligent.
I had all these things just months ago, and still, the relationship went south.
It's hard. Relationships are not all flowers and walks on the beach. A lot of the living that needs to be done can be repetitive and stressful. What you're looking for is someone who can tackle those ups and downs of the human experience with a positive and joyous attitude. Yeah, I'm still working on that for myself. But I AM working on it, and constantly.
I'm not in the pursuit of perfection. But I am in pursuit of 100% authenticity. And I am listening and feeling into what I want in every venture back to the sites filled with hundreds of pictures and profiles of women.
I am hopeful again. I have one new contact that has potential. And I'm slowing my roll a bit. In fact, I woke up this morning composing a letter to her in my head. What I wanted to say next, to reel her in a bit, while remaining cool and collected. You don't want to overheat, over-promise, or over-pursue. It's a fine balance. Honesty, clarity and some demonstrated amount of joy. But heck, I'm a writer, so I should be able to do this.
And I'm actually not looking to date at this point. I'm looking to find some friends who happen to be women that I can spend some time with. If things move on to dating, I want that phase to transition quickly into a relationship. And I suppose the difference for me is monogamy and getting back out of the online dating scene. I look forward to looking at only one profile, the one I experience in real life. So much of what people write about themselves is fantasy or even delusion. And some of what people put in dating profiles are outright lies.
Finding that genuine needle in a haystack is going to be a long haul, I imagine. And this new "hello" contact is responding to my letters in a 24 – 48 hour window. So there's that challenge as well. Keep looking while really hoping to be able to stop looking.
And that's really what we are all looking for. Someone that causes us to stop looking. I am much better in a relationship than I am in pursuit. I am much more interested in building a life rather than building an online profile.
Slowly but surely, with patience and grace, I will be in a relationship again. Months from now, a year from now, I hope to be writing you again about "the love of my life." Heck if you don't believe it, how will you ever get there.
Yes, God, I'm ready this time. Ready as I'll ever be. So BRING IT.
Keep the faith, and if you need someone to talk to, check out my coaching page.
Namasté,
John McElhenney – life coach austin texas
Facebook  | Instagram | Pinterest |  @wholeparent
More from The Whole Parent:
You can find all of my books on AMAZON.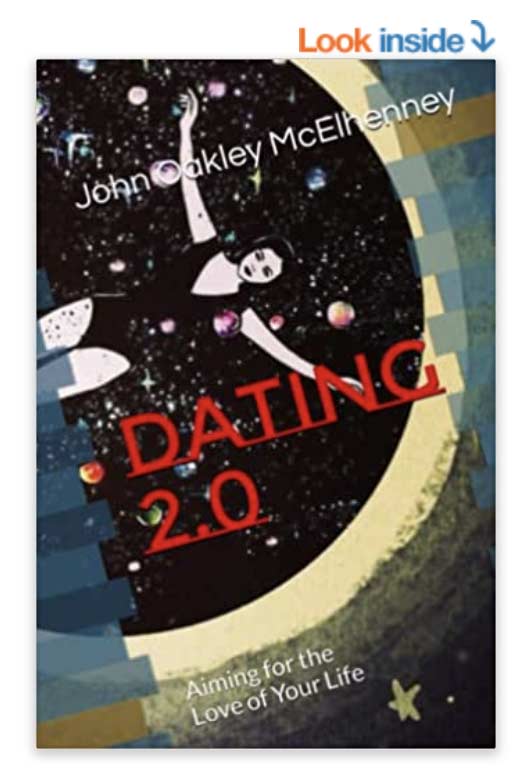 image:  dating, creative commons usage allowed