I have been losing my enthusiasm for online dating for a number of years. But opening the sites and apps more recently, I was even more clear about why they don't seem to be serving us, as adults looking for healthy long-term relationship. Again, a man's experience of the online dating experience is going to be very different from a woman's experience. But, I'm hearing from some recent conversations with women, that the shitshow exists on both sides. Women just get propositioned by a lot more potential dates. As a 57-year-old man, with silver hair, I've opened a new account to collect some data. I am trying to be very upfront in my profiles on Bumble, Tinder, OKCupid, and Match. And, for the moment, I'm browsing, rather than going after a date or an LTR. (long-term relationship) I'm checking out the local environment for online dating.
Online Dating: Women Reaching Out to Me
First, I'm not certain that attractive and energetic women within my age range (57 plus or minus 6 years – but I've learned to be more flexible) are reaching out to men at all. My understanding, from an attractive friend, is that they were flooded with available men. Or at least men saying they were interested. The truth is, online dating is a bit of a game. Not all available people are actually available or interested in dating. Some of the people who are always reaching out, are not even real people, they are fake profiles created by the companies to get you to pay for the enhanced features. Most of the online dating sites and apps are free. That is, until you actually want to reach out and make contact with a potential match.
That said, for me, over the course of a few days, a number of women have actually reached out to my new profile and my smiling gray-haired selfie. And the results of this initial experience is horrifying. (I'm hopeful that the attractive women that's I've right-swiped on don't see my profile with the same aversion, but who knows.) My gut reaction is: if these are the available women who are interested in me, then I'm OUT. I'm done. I'm washed up. I'm not interested in dating women who are "of a certain age" who have not spent any time keeping in shape, who have no mojo expressed in their photos or their profile words. If a women has built an online profile, the idea is they are putting their best image forward. And if that's the case, there are A LOT of women who (a) don't give a shit; (b) are just ugly and uninteresting; (c) are trying, but are just not in my wheelhouse.
I don't mean to be shaming anyone, but I'm going to give you two examples of how something is not quite right.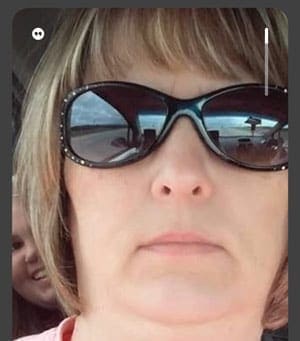 Okay, so let's just start with a couple of observations:
She's not smiling
She's wearing sunglasses
She's either proud of her double chin or doesn't understand camera angles
Her daughter appears to be taunting her in the photobomb
As a package deal, this is a non-starter
And this woman is 12-years younger than myself. But… Well, let's just say this match is a big miss.
The second one is even more frightening.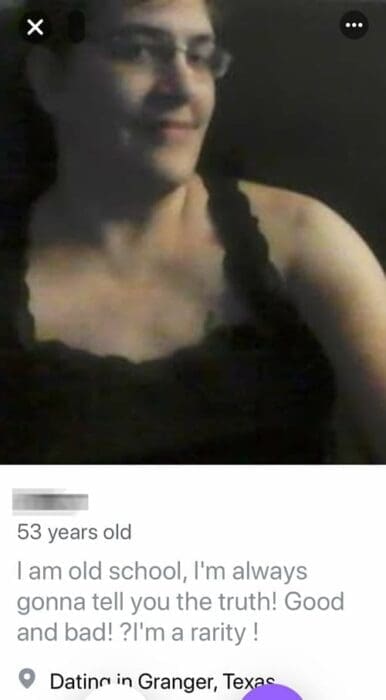 Where to begin.
She is a definitely a rarity
I'm not sure she's told the truth about her gender
She's smiling, so there's that
Granger, Texas is a long way from here
The hint of a tattoo peeking out from the top of her blouse should be enticing (I want to see more of that) but it is not
I'm sorry if these examples are shaming either of these women. But I'm certain these types of profiles are fairly typical for the women who are reaching out to me. Discouraging? Yes. Hopeless? No.
Online Dating: Men Reaching Out to Women
I have not been very active, at this point, in doing the heavy lifting. I'm not feeling all that motivated about driving the dating process at this moment. When I do reach out, however, the average response rate is about 1%. If I send out 100 "hello" messages, I'm likely to get ONE RESPONSE. It's true, I am reaching out for a cute and positive woman, who is likely to have an overflowing inbox. So, perhaps they are not even seeing my message. Perhaps they are passing on the less-than-silver-fox profile selfie. It's hard to know.
What I do know for me, is that online dating has produced exactly two relationships. And, both relationships were beneficial and educational. But my belief is that online dating is a pretty lazy way to go about seeking a partner. If we're all just clicking and swiping, what else are we doing? At this moment, it's a beautiful Saturday afternoon. What would my potential partner be doing? What sort of event might they be attending tonight (music, theater, party)? And, if I want to meet this woman out there, I've actually got to go other there as well. I cannot expect to find my next partner through social media or a dating site. And let's not talk about Facebook Dating yet. But, it too, is a shitshow.
I'd love to hear about your online dating successes and failures.
The Facebook advertisers seem to have my type figured out, but their age-range is off by a factor of 3.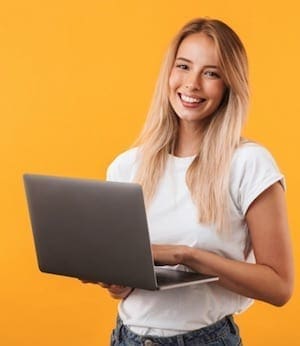 Always Love,
John McElhenney – life coach austin texas
Facebook  | Instagram | Pinterest |  @wholeparent
More articles from The Whole Parent:
You can find all of my books on AMAZON.
Now Available from Amazon